Average rating from 216 users
96%Recommend to a friend
Rare Beauty Reviews
All

216
Liquid Blush

28
Liquid highlighter

8
Mascara

4
liquid eyeliner

2
lip oil

2
Foundation

2
Tinted moisturizer

1
concealer

1
I really haven't been impressed with a single product of theirs (blushes, bronzer/contour stick, mascara), and now it seems their messaging is inconsistent/not integrated through the company. It makes me distrust the brand.
---
So far I have only tried the liquid blush, but I love it. I now own it in the shades Happy & Bliss. I personally prefer the shade Bliss for a more day to day look, but both blend so nicely at different times of year, and for different looks. I also sometimes use them as a lip color when I want a natural look. They are extremely pigmented so a little goes a very long way. But as someone with acne prone skin, I have not had any issues and personally find them worth the money.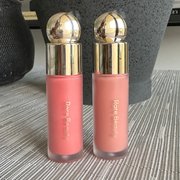 ---
---
Love my blush and concealer. The brand is amazing.
---
What is Thingtesting?
Thingtesting is an unbiased place to research and review internet-born brands — because honest reviews help us all shop better. Learn more.
---
Average products. I've tried the blush and highlighter. They use Asian make up formulas and you can easily find a better and cheaper alternative on yesstyle or olive young
---
good product, blush is great but the packaging leaks a bit which ends in a lot of wasted product considering how little you need for each use. The product gathers and pools around the rim. Otherwise, great blush. Eyeliner brush was great but dried way faster than my other eyeliners
Liquid Blush
liquid eyeliner
---
I have only tested the liquid blush in tint bliss but his incredible : he's SUPER pigmented but also super natural The only negative point I see is that it's dry quickly and it's not super easy to blend it…
---
i have only tried their liquid blush, but they are hydrating AND pigmented, this is coming from a dark skin girl! miss selena put her foot into this brand and it really shows!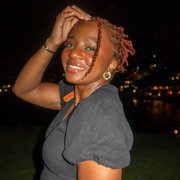 ---
My favourite liquid blush so far; it's highly pigmented and blends seamlessly with just a little.
Liquid Blush
Liquid highlighter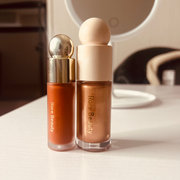 ---
only purchased their liquid blush and I don't think I need a refill of that anytime soon lol. Very pigmented which I like, so it's def worth the money for how long it lasts. Cute packaging as well!
---
I have four shades - Encourage, Grace, Hope, and Happy and they are all beautiful on my skin. A little goes a long way and they last all day!
---