Prime Roots
Prime Roots sells a range of flavorful, koji-based deli meats and charcuterie.
www.primeroots.com
Average rating from 3 users
Delicious koji made ham. Super cool product that is gluten free and soy free, especially when a lot of the alternatives use wheat and soy, it nice to see a product taste good without it. I love using their products for charcuterie and pizzas
---
I had the opportunity to try their ham at Bi-Rite supermarkets in San Francisco and absolutely fell in love. I was skeptical at first, admittedly, being a vegan and having so many mediocre faux meat options out there starts to give you a bad taste in your mouth (no pun intended). However, the ham in the sandwich was amazing and my wife and I have been getting a sandwich every other day for over a month now.
Feedback
More ham and meat options please!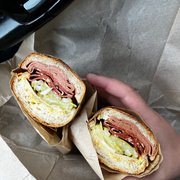 ---
---
I absolutely love this company, their food, and their impact/story. I found Prime Roots as I was searching for vegan deli meat alternatives. It's a very niche market and I'm glad someone had this idea. It's genius!!!
Feedback
I would love to see more spicy options, something like andouille or chorizo.
---