Omy Laboratoires
Omy Laboratoires makes personalized skin care products.
omycosmetics.com
Average rating from 3 users
I'm absolutely obsessed with their new refillable packaging. It's so eco and innovative. It has test tube vibes in the best way possible. The fact that you can customize your "recipe" of product is the icing on top.
---
Omy is an awesome Canadian clean skincare company focused on personalized skin care products. Your skin is analyzed to create a custom skincare formula with 3 key ingredients. You can personalize a serum, day cream & night cream and subscribe for refills. My serum lasts me about 3 months and I get sent a new one in the mail, it's so convenient. I also use their eye cream, BHA active foam cleanser and reusable eye patches. They've recently just updated their personalized products to a refill system which I love, I'll be receiving my first one next week :) My skin has really improved since using their products and you can update your formula according to your needs.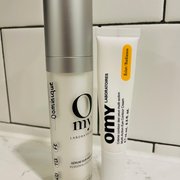 ---
---
I met the founder at an event and she gave me a code to try some products. They blew me away. The serum actually melted away what I think was a huge milia - I had assumed I'd have to get it looked at by a doctor but over a few weeks of usage it just shrank and vanished. I was also really shocked by how good the foaming bha cleanser was - usually I find that sort of thing either too drying or not cleansing enough (or both) but this somehow both cleansed really well and also left my skin feeling soft and not dried out at all. When I ran out I bought the serum and cleanser again and added the moisturizer and the moisturizer is also really great. The light fragrance truly is LIGHT, I don't love the one I chose but its very light and doesn't irritate my skin so I'm fine with it. The unscented serum is a bit medicinal smelling but I prefer that to an irritating fragrance.
---