Average rating from 7 users
100%
Recommend to a friend
I tried the MISS GRASS "QUIET TIMES". It was one of the best pre-rolls that I've tried, it helped to slow my mind of a busy day easily slipping into a restful nights sleep. I had to buy more, as well as the rest of the line-up.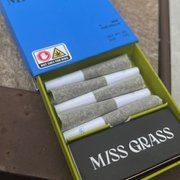 ---
The only reason this isn't a 5 is because I wish I could have more of it. Miss Grass is my go-to and fast times is my favorite. The packaging is stunning and convenient. Lifetime costumer for sure. ⭐️⭐️⭐️⭐️⭐️
---
---
really really good product. I honestly wasn't familiar with the brand until I randomly purchased the "all times" and just as it describes, the feeling is true bliss, something I don't think I've ever actually experienced before. Update: I'm back almost a year after trying this for the first time to say I searched LA for it when I was just back there and ended up at Sweet Flower again in the arts district where I scooped it up. Just as I remembered. Absolutely perfect.
---
What is Thingtesting?
Thingtesting is an unbiased place to research and review internet-born brands — because honest reviews help us all shop better. Learn more.
---
excellent product! i tried the "fast times" minis. they were really smooth and the first pack of pre-rolls that i've come across that already included a matchbox, which was amazing. i really enjoyed being able to indulge in the day without getting glued to my couch for hours!
Feedback
the minis are the perfect size and dose for solo consumption imo!
---
love the packaging and the types. big big fan
---
Holy Grail neurotic millennial product. The packaging is sublime! The matches, come on! And the perfect mini prerolls! Enjoy while walking your dog or when taking an annoying phone call. Really anytime and anywhere is great.
---
Overall I loved the products. The minis are the perfect sizes and perfect doses. My wife brought them home and I've been hooked ever since.
Feedback
Just Perfect! If you love both CBD and THC products then MISS GRASS is right for you!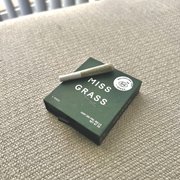 ---