Average rating from 6 users
100%
Recommend to a friend
Got it during pandemic and it has helped me stay in shape. I also love it because I hate driving and it helps me not making excuses to skip
---
I love my Mirror and use it all the time! It fit greats in my room and I love the classes it offers.
---
---
I bought this during the pandemic and I think it's one of the main things that saved me. During the first few months of the pandemic I gained 10-15lbs but since receiving my mirror I have lost all the weight and then some! The mirror allows me to build a routine that works for me with the flexibility to work out whenever at home and on-the-go with their mobile app. I love that I can choose from a variety of classes, so if I feel like doing yoga one morning or strength the next, I can! There's no overcrowded studio rooms, 8am bookings, bumping into sweaty people or commute times. I don't think I'll ever go back to a gym after this…
Feedback
Nothing to add right now I'm loving it so far!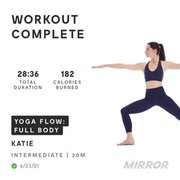 ---
What is Thingtesting?
Thingtesting is an unbiased place to research and review internet-born brands — because honest reviews help us all shop better. Learn more.
---
I loved the on-demand classes. The variety of type of classes - from dance, HIIT, yoga, etc. and there are so many teachers to choose from. The mirror looks so sleek in the house as well.
Feedback
There is no family plan, which I think could help get Mirror in more homes. Each Mirror can have 5 or 6 users... but they are all connected to one Mirror. I use the one in my parent's home, but I would like to use our same family account and buy the hardware for my own apartment.
---
The Mirror is super user-friendly. You can just connect your phone or tablet and choose whatever workout you may be feeling that day. There's a wide variety of class types- everything from yoga to boxing. As someone who loves group fitness classes, but also has a busy schedule, it's a huge convenience to have access to on demand classes at any time. You can also use the app on its own which comes in handy if you're traveling and want to get a workout in!
Feedback
I know the brand sells weights and additional equipment, but it would be even better if it was all included in the purchase of the Mirror!
---
I have a Mirror and I love it. It works great for my small NYC apartment where I don't have room for a piece of equipment like a Peloton but what I love most is the variety of classes that you wouldn't get from another piece of equipment.
Feedback
It's expensive but I think worth the money.
---