Mahabis
4 • 9 Reviews
Mahabis makes premium slippers featuring a detachable, sneaker-like sole to increase comfort and durability.
www.mahabis.com
Average rating from 9 users
78%Recommend to a friend
Purchased as a gift for a family member. This appears to be a European based company so those purchasing in the US should add extra time for customs and delivery. Slippers are very high quality and run a bit small. Purchased in the normal size and it was too tight in the toes and had to be exchanged, which was quite a hassle. The heel detail that can go down or up is a really lovely design feature and makes the wool slippers nice in all seasons. The detachable sole means that the wearer can adjust for comfort or use to quickly go outside for rubbish drop offs or quick mailbox trips. The slippers come in a wide variety of colors and combinations, and the person I bought them for really likes them.
---
I love the idea of these slippers - the branding, packaging and product are all very appealing. However I bought 2 pairs, one for myself and one for my husband, and the snap on at the back would not adhere. I ended up only wearing them as indoor slippers, which is a shame as I wanted to use them outdoors as well. Sadly, will not be repurchasing them again. Great idea though!
---
---
Incredibly comfortable slippers/shoes. The fit was incredibly comfortable and not itchy as one could be concerned about because of the material. The heel never slipped out. - it could happen a lot with this type of design. The original design had a snap on interchangeable sole and glad that they changed the sole. It's the only thing I found deteriorates over time.
---
What is Thingtesting?
Thingtesting is an unbiased place to research and review internet-born brands — because honest reviews help us all shop better. Learn more.
---
I just could not find a way for these to be comfortable. I love the look but they feel odd on my feet.
---
Just got mine on super sale (around ~$35 per pair). They're comfortable and fit well, will be interesting to see if they stand the test of time.
---
Really comfortable, but the first pair broke down quite quickly (material abrasions), this series is already discontinued and the company, as part of the complaint, replaced the pair with a different model (summer), in the case of this model after more than a year of use, there are no problems with abrasions.
---
I bought my first pair of Mahabis for my housemate about 8 or 9 years ago because she would wear her slippers outside to smoke then come back inside and put them up on the couch and make it dirty so I thought these would be the perfect solution - she could keep the rubber soles by the door and wear them outside and slip them off when she came in. Such a great idea!! I loved the look and feel of them so much that a year or so later I bought myself a pair that I still wear today SEVEN YEARS LATER!
Feedback
My only complaint is that on my second pair of Mahabis the snap on one of the slippers never stayed properly closed so whenever I'm walking it will pop off and the sole will come unattached. For this reason I only tend to wear them around the house or to the end of the garden as I'm too scared to lose it.
---
I was gifted these five or six years ago by my in laws. I love them. I want to replace the soles but they no longer carry the version I need. The wool portion is still great though.
Feedback
Changing the soles was the right move. The current version I have is kind of clunky with the snaps at the ankle.
---
I've been using my Mahabis for over 2 years, and I love them. I'm only using them at home (indoors) during the half of the year when it's cold. I have quite the issue with foot odor, but my Mahabis does not smell bad at all. The wear after 2 years is minuscule. I have the Mahabis Classics, with gray shoe soles. The fit is great, they keep my feet warm when I need it. I'm surprised by how good they have held up. Even the print on the innersoles is intact. My new Nike shoes do not have an inkling of inner sole prints left after just 1 week of use. They are simple and elegant.
Feedback
One thing that has started to happen, is that the wool is starting to get a bit frothy or nippy. I guess this is to be expected after some time. I also think I could use one of them cloth cleaners to clear some of that nippy wool. Another thing I did not consider when buying the Mahabis is that they are quite thick with the sole, I had expected them to be a lot slimmer, closer to the ground. And the shoe is also quite narrow, so if you have wide feet, they might not be the best indoor shoes for you.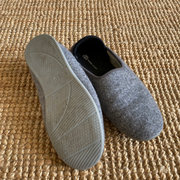 ---