L'Oréal Paris
L'Oréal Paris manufactures highly advanced and luxurious beauty products for women and men
www.loreal-paris.fr
Average rating from 25 users
94%Recommend to a friend
L'Oréal Paris Reviews
All

25
Infaillible 24H

4
mascara

3
L'Oréal revitalift eye cream

2
L'Oreal Paris Revitalift Laser Serum

2
l'oreal hylorinic acid

1
True match hyaluronic foundation

1
telescopic mascara

1
Double Extend Beauty Tubes Lengthening 2 Step Mascara

1
True Match Nude Tinted Serum

1
Age Specialist 45+, 50 ml

1
L'Oréal revitalift moisturizer

1
true match

1
While my favorites usually fall to other brands, LOreal does have decent skincare and certain makeup items. Mascara is usually a hit and the nail care products are excellent.
---
Great, steady brand - have been using L'Oreal products for years now. My most favourite thing though for years has been the Volume Million Lashes mascara. It's one of the best drugstores mascaras of all times, gives you beautiful fanned lashes and doesn't budge or smudge. Highly recommend.
---
---
This review is specifically about the L'Oréal Paris Makeup Double Extend Beauty Tubes Lengthening 2 Step Mascara, the tubing mascara of my DREAMS. It stays on all day, absolutely no flaking, and rinses off with hot water easily and doesn't irritate my sensitive under-eye area. It's my new everyday mascara holy grail!!
Double Extend Beauty Tubes Lengthening 2 Step Mascara
---
What is Thingtesting?
Thingtesting is an unbiased place to research and review internet-born brands — because honest reviews help us all shop better. Learn more.
---
I mean it's a basic drugstore makeup brand-I really don't see any point in spending real money on it
---
I use the L'Oreal Paris Infallible 24HR Fresh Wear Foundation with SPF 25 during the summer months. I typically have very oily skin and don't have greasy issues with this foundation. I don't like to wear it during the winter months only because I feel like it's a little too much coverage during those months (personal preference)
---
Love the True Match Nude Tinted Serum. My perfect everyday foundation. I typically apply with a damp beauty blender, but sometimes when I get lazy I just rub it on like a normal serum with my hands and it blends seamlessly both ways! Lasts all day and is buildable up to a medium coverage. Skin-like finish, though I do recommend setting it with powder. I find my skin has improved over time since I started wearing this daily. However, my only complaint is the dropper bottle that this comes packaged in. It gets messy and goopy quickly and it's impossible to get the last bit out once the product level goes below the end of the dropper. I have 10 half-finished bottles laying around for this reason. This product would do SO much better in a pump formulation but with how good the product is I'm willing to look past it for now
True Match Nude Tinted Serum
---
I love their home hair color. I've used it many times when I wasn't able to get to the salon. I also like their foundation and eye liners. Pretty good products at a reasonable price.
---
I have just tried their hair care products but they are so good. The smell and the quality of the products help me recover my hair after curls are so smooth.
---
I bought this powder because I was looking for something to put on my face that covers up all imperfections. I was debating between this and another product. I chose this because this was a powder and would be easier to apply. The coverage is amazing. It covers everything. It covered my redness and my shiny spots, especially the nose which nothing ever worked to cover. It lasts a while, not all day and night, at least not for me, but I tend to get oily around the chin and forehead.. It's easy to apply. When I put it on it looks thicker than other face powders I've used in the past, but once it's on my face it doesn't feel heavy at all. It comes with a sponge and mirror. I use the ivory buff shade that matches my skin tone perfectly. I would definitely buy again and recommend it.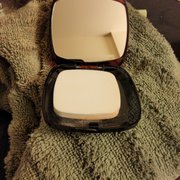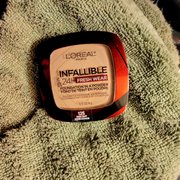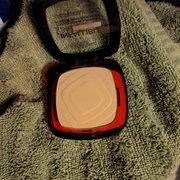 ---
I remember when I saw a big makeup artist say, " if you buy any type of drugstore makeup, buy L'Oréal, they own everything". So I did. My fav for years, since I was in high school (ahem Grad '95) is to this day Voluminous Mascara. The original in blackest black. Totally reliable, I've never found anything better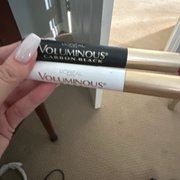 ---