Leisure Project
5 • 12 Reviews
Leisure Project makes a hydration beverage with natural electrolytes, adaptogens, and nootropics to reduce stress and improve focus.
www.leisureproject.co
Average rating from 12 users
100%Recommend to a friend
Leisure is tasty, refreshing, and beautifully designed. The product is so hydrating and the perfect beverage for a hot day. I love the packaging and their overall branding. I would highly recommend this product!
---
Tastes amazing, has incredible ingredients like ocean minerals, magnesium, gaba, etc. I added it to a smoothie and I've been focused all day and calm!
---
---
WOW!! My new favorite beverage, hands down. I was blown away by the taste of their Mango Ginger flavor. It was reminiscent of a lightly sweetened mango iced tea, and it was the perfect thing to accompany my meal. Definitely going to reach for one of these whenever I see one in-store.
---
What is Thingtesting?
Thingtesting is an unbiased place to research and review internet-born brands — because honest reviews help us all shop better. Learn more.
---
Friends with Leisure Project
An awesome, refreshing beverage option - not overly sweet, the perfect balance of unique flavor combos, and it's good for you! Plus, the branding is so cute and colorful. Definitely recommend!
---
So so yummy, refreshing, and worth every single cent I have! Did I feel less stressed? YES! I am seriously so happy everytime I drink this drink. Not to be dramatic, but it might be magical.
Feedback
10/10. Make your life better and buy these drinks. I love the blueberry lavender, it is the perfect blend of the two flavors.
---
Incredible! I got to taste at the Snaxshot event and it was awesome to see how many people came to try the beverage and said that they were apart of the early mint for Leisure Project. I am excited to see this company grow.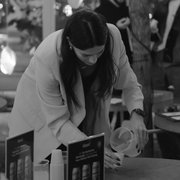 ---
Leisure is an incredible product - refreshing and hydrating. I'm also a Leisure Creature holder and looking forward to building this together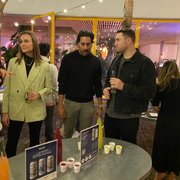 ---
What I enjoyed most about leisure is that they don't use artificial flavors to bring their SKUs to life. The flavors worked really well, I enjoyed all three of them.
Feedback
Really this experience rocked. I was lucky enough to test all three. Can't wait to use these mid day when I'm in need of a hydration pick me up.
---
Friends with Leisure Project
Quite flavorful and refreshing. Too many other hydration drinks are too sweet or lack any flavor at all. this felt like it hit the perfect balance!
---
Super tasty drinks made by an awesome team, definitely recommend!
---