Koio
Koio makes handcrafted, fancy sneakers for men and women.
www.koio.co
Average rating from 3 users
High quality leather sneakers -- I bought a pair for my husband, they were true to size and quite heavy.
---
Koio look and feel great. They're definitely a high quality, elevated sneaker. The leather creases fairly quickly, however, and they show their wear pretty fast.
Feedback
My only concern with Koio isn't the look or feel, but how quickly they look beat up and show wear.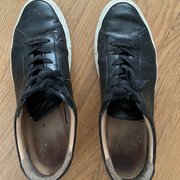 ---
---
It took forever to be comfy in them. I could only wear them for short periods of time. But now they seem quite durable. Definitely more long-lasting than my YSL sneakers. They are quite heavy.
---