Average rating from 35 users
100%Recommend to a friend
I found Jazeena on Tiktok and when I found the brand on Thingtesting I was so happy. These products made me feel so relaxed and smell amazing!
---
I love my Jazeena candle! From the scent to how smooth and soft it makes my skin to how cute the packaging is, it's so beautiful and easy to use!
Feedback
Even though I know you could pour the wax directly onto your skin, my brain did not compute, so I was scared of getting burned. But don't be afraid!! It's nice and warm and not like regular candle wax. So pour away!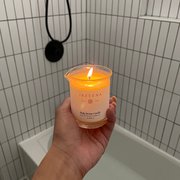 ---
---
Love this product!! The fragrance is perfect, not over powering. The product is so smooth and feels wonderful on your skin!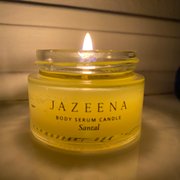 ---
What is Thingtesting?
Thingtesting is an unbiased place to research and review internet-born brands — because honest reviews help us all shop better. Learn more.
---
I highly recommend Jazeena's body serum candles for anyone seeking a simple way to unwind and treat their skin to a little extra care. I love the way my skin feels after I pour it. It's not burning hot, which I like because I am extra sensitive to extreme temperatures. The candle's aroma is soothing and transports you to a state of tranquility, making it ideal for meditation, yoga, or simply unwinding with a good book. The candle is a welcome addition to my household, and my partner agrees. Will definitely order more.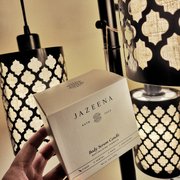 ---
Some of my favorite things in 1!! Candles, fragrant smells, moisturizing and self care <3 Such a unique concept and so effective. My skin is pretty sensitive, so I loved that I knew everything that was in this serum and that my skin responded well to it. A candle can be so simple, but being able to use it as a body serum, esp after a long day and a nice bath plus with the beautiful branding, just amplifies how special self-care can feel like!! Its so perfect as a gift too, being able to share that experience with family and friends
Feedback
No feedback for the makers but for people considering this brand: for a candle it can seem expensive, but remember that this is way more than a candle. You're paying for quality moisturizing for your skin as well as a nice, enjoyable experience!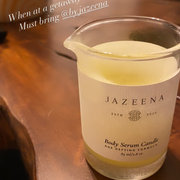 ---
Jazeena's body serum candle helps me to feel like I'm having a spa experience when I don't have time to go to spa or when I look for a budget-friendly self-care. The aroma and the warmth from the candle (rose scent) puts me into a relaxed mood after long-hours and stressful days at work. The body serum candle moisturizes my skin well and doesn't make my skin feels sticky. My skin feels smooth after several applications. Don't be fooled by the subtle fragrance as the serum is melting because it smells wonderful after applying it on my skin after showering that can last overnight. Since then, I have purchased the serums as gifts to my family and friends. In addition, I love the simplicity and versatility of the serum's container where it reminds me to enjoy life in its simplicity and how I can use it for other purposes, such as mini plant pot. Thank you, Jazeena, for creating these products that help us to unwind and smell the roses!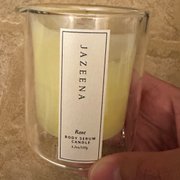 ---
The JAZEENA Body Serum Candle is so luxurious and feels incredibly hydrating on my skin. I love that the ingredients are organic, the packaging is beautiful and I love the glow it gives my skin all day!
Feedback
Overall, I would highly recommend JAZEENA Body Serum Candles to anyone looking to improve the appearance and health of their skin. It's definitely worth it and I use it in my daily routine.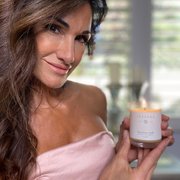 ---
Perfect gift! Bought these for friends and they absolutely loved them!! Beautiful and loved the different scents.
---
I fell in love with these candles! The scent of every one is so devine & heavenly, the consistency is perfect! Not greasy at all. I LOVE knowing that slathering all over my skin is not only safe but healthy for my skin. I'm purchasing the sample sets for gifts!
Feedback
Would love to see more bath/ products by this company! I love the ingredients used & feel like I'm treating myself Owner reached out when I had a question about our of stock product, which I thought how nice to take the time to do so. So thank you for your time & being so kind.
---
The only body item you need!
Feedback
It's a wonderful thing to give people and yourself as a gift. It's a candle and body oil. And really the only thing you need in your bathroom to not only make your bathroom smell lightly of rose/fugue/santal. I don't like body lotions or oils because I hate feeling sticky, but that's means my legs are left dry. That's where jazeena's candle come in. The heat is warm enough to be warm on skin but not hot or painful. The oil is smooth on your skin and it's absorbed in your skin allowing the skin to smell lovely as moisturized. It's not oily in the sense that you won't have to wipe it off on the towel or wash your hands. This really made me enjoy the after events of shower/bath.
---