ISH
4.33 • 3 Reviews
ISH makes a range of non alcoholic cocktails and runs an alcohol-free wine store.
What is Thingtesting?
Thingtesting is an unbiased place to research and review internet-born brands — because honest reviews help us all shop better. Learn more.
Average rating from 3 users
ISH Reviews
Experience
This was totally fine but it wasn't memorable. I like other similar drinks in the category better.
Feedback
It didn't taste very multidimensional and layered which I think you kind of need with NA drinks or it feels more like juice.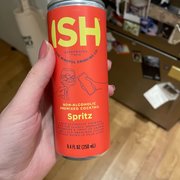 Experience
I have tried multiple ISH products, including the Spritz, Lime Daiquiri, and Non-Alcoholic Gin. All three products have had a great flavor profile and I loved that the Spritz and Lime Daiquiri are canned making it easy to take with me as my drink of choice for any party. The non-alcoholic Gin is the perfect combination of botanicals and is great for mixing into any gin-inspired mocktail. If you would not have told me the ISH was alcohol-free, I would have assumed the ISH Gin was a high-end brand of alcoholic gin, and it has now been added as an essential to my non-alcoholic bar cart.
High quality
Worth the money 💸
Tasty 😋
Luxury
Experience
I was kind of skeptical about how tasty ISH would be. After all, non-alcoholic versions of alcoholic drinks are often not too great in my experience. I was really pleasantly surprised with Spritz Ish, though. It was a really faithful recreation of an Aperol Spritz. The color was authentic, the aroma what you'd expect and the tast delicous. I especially liked the addition of chili as it gives the drink a really nice finish, almost like a real Aperol Spritz.
Innovative product
Worth the money 💸
Tasty 😋