Genusee
Genusee makes sustainable eyewear in Flint, Michigan from recycled plastic water bottles as a result of the Flint Water Crisis.
genusee.com
Average rating from 5 users
100%Recommend to a friend
As a Michigan native, I was thrilled to see a circular economy product coming out of Flint, a community ravaged by racism and government indifference. Do I love that the Genusee founder is a rich white woman from the affluent Detroit suburbs? No. But I will support their efforts to revitalize a small part of the Flint economy. As for the glasses, I love the classic shape and variations in frame and lens color. I even splurged on a pair of reading glasses as a gift to my mother (a nurse who has worked in community health in Flint).
Feedback
Waiting on more designs!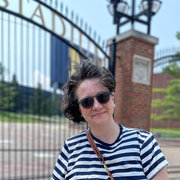 ---
Website States they are going out of business ?
---
---
I bought my pair on a trip to Detroit a couple years ago. They are still going strong. The plastic has a bit more give than some glasses offer so maybe that is why they are holding up well.
---
What is Thingtesting?
Thingtesting is an unbiased place to research and review internet-born brands — because honest reviews help us all shop better. Learn more.
---
I have never received so many compliments on these - the frames are great, really amazing customer service, and a great mission.
---
I've had a pair of Genusee sunglasses in black for the last 4 years. I absolutely love the mission (circular economy, upcycling, job creation and economic empowerment in Flint, MI), and I absolutely love the glasses. They are sturdy, chic, and look good on literally everyone, regardless of gender, ethnicity, or face shape, . I know this because every time I wear them around friends, they ask to try them on, and they look good on everyone. My partner has gotten 2 pairs. We got a pair for his mom as a gift. A couple we're friends with got a pair to share. I would feel safe buying these as a gift for almost anyone, which is a WILD thing to say about sunglasses!
---