Average rating from 5 users
40%Recommend to a friend
I love the concept of a better-for-you instant noodle, but unfortunately this product didn't deliver what I was looking for. If they come out with a v2.0 recipe I would give them another go.
Feedback
All three flavors are a bit flat, and I ended up adding my own condiments to make them tastier. To be honest, I think I missed the saltiness you normally get with instant noodles! I also found the noodles didn't cook properly when I followed the packet instructions. My workaround has been to remove the noodles and soak them in a separate bowl for five minutes, before adding them back to the pot with the dried veggies and following the instructions as normal.
---
Love the packaging and brand, so I had high hopes for the product and...wow...the texture was awful, the flavor was bad, and the overall experience was dismal. I got the variety pack of 6 and tried one of each, hoping that maybe, just maybe, one of them would be ok, but alas...not the case. I ended up putting the other 3 as a giveaway on Olio because they were taking up too much cupboard space and there was no way I was going to finish them. It's sad because I love the concept and love the branding, but this is not the future of noodles (or if it is...I am scared). I would try again if they could improve, but I almost feel like they tried to make everything 100% healthy instead of just healthier without 100% ruining flavor/eating experience.
Feedback
Texture. Flavor. Everything about the product itself, really.
---
---
I bought the spicy kimchi noodles to see if they were a healthier alternative to the Korean kimchi noodles I usually buy and oh boy was I disappointed. The texture is awful. The noodles feel like you're chewing cardboard and unfortunately these noodles do not look appetising in the slightest… and not do they taste good. Although there is a hint of spice, the overall flavour cannot be described. It is powdery and off putting. I also tried the broth alone to see if it was any better and that was a big big mistake. The broth tastes and feels as though you're drinking water that you've dissolved 10 paracetamols in, which I would guess may be because of the vitamin powder. If you don't care for things tasting good then this may be great for you! I think it's awesome they're trying to give you your protein and your daily vitamins and minerals, but ultimately this falls flat as the taste is dire. The packaging, on the other hand, is very well done. The foil lid was very cute with the instructions to "blow. blow. blow." but the rest of the product fell flat.
Feedback
The flavours desperately need to be improved.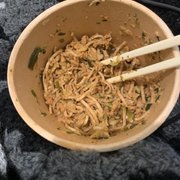 ---
What is Thingtesting?
Thingtesting is an unbiased place to research and review internet-born brands — because honest reviews help us all shop better. Learn more.
---
I really like the concept and I like the flavors and nutritional value of the noodles, however the noodles themselves are a little strange in texture. There are a LOT of veggies in these which is so great. Honestly I've replaced the noodles with regular ramen noodles and it was delicious.
Feedback
The noodles are a little strange in texture and don't seem to cook quite well. I can see room for improvement.
---
Everything about these noodles appeal to me. Eco friendly packaging, nutritionally packed, 100% plant based and it's instant. One serving of 480g can provide a wopping 34.1g of protein. I've tried a couple and the mushroom flavour is my favourite so far. I love the taste and it's incredibly filling. The texture isn't the best and can have a chewy consistency.
Feedback
The texture could use improvement and also offering a low calorie option as servings can be over 500 calories.
---