Fulton
Fulton makes comfortable, supportive, and sustainable insoles.
walkfulton.com
Average rating from 8 users
88%Recommend to a friend
Fulton Reviews
All

8
Classic insole

2
Fulton 3 pack bundle

1
Athletic insole

1
got these in hopes of improving the walkability of my blundstones and high tops. wildly disappointed. they feel actively flat & hard even after months of wear and "molding" to my feet. high price & not worth it imo.
---
So I do really like these, although you have to be patient when breaking them in. They say it takes up to 10 hours of wear before your foot fully imprints into the insole. I work on my feet 6+ hours a day and I think it took a bit longer than 10 hours but they do feel great and they've really helped reduce pain in my feet! Con: I have noticed they stifle reviews on their site that are below 4 stars, which isn't super transparent. You cannot read reviews left with 1-3 stars, which I hope they will change because it is a good product and they shouldn't have anything to hide.
Fulton 3 pack bundle
Athletic insole
Classic insole
---
---
Purchase a pair of insoles from Fulton a few weeks ago and I can say comparing walking in shoes with and without the insoles, it's so much more comfortable with Fulton! It does help support the arches of my feet a lot better than a regular shoe and because I have flat feet, it's a big problem for my right foot. They are a little bit on the pricier side, but I think worth it for shoes you might wear on a daily basis.
---
What is Thingtesting?
Thingtesting is an unbiased place to research and review internet-born brands — because honest reviews help us all shop better. Learn more.
---
The insoles are SO comfortable I have already gone back and bought a second set. I also enjoy that they are made with eco-friendly and carbon-negative materials. Edit: I added a before and after picture of my insoles after wearing them daily for ever a year, still couldn't be happier with the purchase!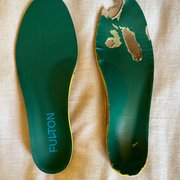 ---
I initially purchased the wrong size, but the costumer service was so nice and easy and sent me the correct size at no cost. Overall the product is really comfortable and I love the support them bring.
---
These are so comfortable, I love them. I have high arches and bought these specifically to go inside a pair of Doc Martens that are really uncomfortable to wear- so far Fulton is delivering! Loved the shipping and CX. I got helpful emails and text updates on my shipping but never felt spammed with too much content. Love the mission and sustainability of the brand. Also a great unboxing experience! First saw them on Thingtesting, then on Instagram, then on TikTok and finally purchased :) UPDATE: I bought a second pair because they were really that good! UPDATE: I bought third (and fourth, and fifth) pairs because they continue to be that good!
Feedback
More information on the website on whether the insoles work well for high arches, low arches, etc. I think they work well for everyone because the cork can mold to your foot but I wasn't sure!
---
A product that's better for you and the planet is always a win in my book. It's fantastic to go from not knowing I was even in a product's demographic to suddenly feeling like I'd love a pair to line each pair of shoes I own. I was delighted to experience life with a bit of extra pep in my step for the coming days.
Feedback
More options for different types of heels.
---
Wanted to make a pair of Converse 70s more comfortable for all day wear and these have not disappointed. Very comfortable, my foot was slightly cooler than the stock insoles as well. Never felt I needed insoles in general, but this was a worthy upgrade, and will certainly be getting more in the future.
Feedback
Would love to see an expanded product line, specialized socks or footware could be cool.
---