Average rating from 89 users
95%Recommend to a friend
Dyson Reviews
All

89
Cordless Vacuum

8
corded vaccum

4
Air Purifier

4
Hair dryer

2
Supersonic

1
Fan/Heater

1
Dyson air wrap

1
Love their vacuum and air purifier. Everything they make is smartly designed and easy to care for, so it improves your life and then is easy to keep in mint condition.
Air Purifier
Cordless Vacuum
---
I've tested the Dyson air wrap and I use it regularly. For me it's a super product, but too expensive… this product is really practice because there's a lot of options : you can curl your hair or straighten them, or do a brushing, or just dry them… It gives a lot of volume and give cool results and don't damage too much your hair But on my hair, the curls don't last more than two hours without setting spray (but I have really straight hair) but I think it depends of your hair type …
---
---
In college I won a dyson vacuum and I will never ever go back to another brand! 8 years later and I've upgraded to the cordless one and it's absolutely a cleaning staple. I live with dogs and I couldn't imagine how dusty and dirty the floor would be without it. It's so lightweight that it's great for a quick spot cleanup and also easy to carry around the whole house when I'm cleaning the floors. The attachment allow me to use it to clean so many other things - my car, my mattress, the couch, etc. It picks up EVERYTHING and has a large capacity so I don't have to stop to empty it during a long vac. It's also incredibly easy to operate and change the attachments. I like the auto setting because it increases the suction power when it senses I'm vacuuming carpet which is so needed with pets! Lastly, they are so durable! It's easy to.l clean/fix yourself if you have a minor issue like a clog. Dyson also always offers a 2 year warranty so if it breaks (which mine never has), you can have them fix it for free. I absolutely know it is a steep price, but I have never found a vacuum that works so well or lasts as long. I definitely feel that the price is worth it!
corded vaccum
Cordless Vacuum
---
What is Thingtesting?
Thingtesting is an unbiased place to research and review internet-born brands — because honest reviews help us all shop better. Learn more.
---
Never understood the hype until I got one. Truly a game changer and worth every penny.
---
I have nothing but great things to say about my Dyson. All of my vacuums, big and small, are Dyson. My air purifiers are Dyson. I used to have different air purifiers but since upgraded to Dyson. The Dyson air purifiers are much more quiet and easier to clean, and they do the job of keeping a room cold or warm. I choose this technology because it's superior in every way. A con is that it's expensive, but it's worth it. It does the job of five plus technologies in one, and lasts decades. You can't find this tech anywhere else.
Air Purifier
Cordless Vacuum
---
Just get it!!! I was hesitant and didn't think it would live up to the hype but I was so wrong!! All the different pieces mean you can change the head to suit how you want to style your hair. My go to that I mostly use is the brush with ceramic tips because it is so quick and easy to dry my hair and reduces the frizz I'd normally get with a regular hair dryer. Granted, it can be hard to achieve the blow out look but that's the same with any hair dryer
---
I tried a cheaper Dyson dupe & it died on me after about a month. I finally splurged on the real thing & I am so happy I did. The vacuum works great in my apartment & the battery lasts pretty long. I am dying to try the dyson hair products after Jen Atkin's rave reviews of it.
---
I own three Dyson fans/heaters and they are pricey but worth it. They are sleek and attractive and I love the little remote control but the best thing about it is that the fan turns seamlessly into a heater when the weather gets cooler. The fan/heaters are blade free so they are safe around children and pets (and clumsy people), as well as easy to clean.
---
Love the air wrap! This and nutrafol are giving life to my hair.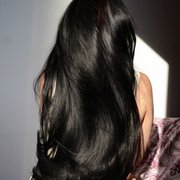 ---
Dyson everything!! I LOVE all my dyson products and enjoy those simple tasks like vacuuming or styling hair so much more. I have the airwrap and cordless vacuum and rave about these products all the time.
---