Average rating from 37 users
86%Recommend to a friend
We're much better than I was expecting (taste wise). Interesting flavors. Didn't really feel relaxed or feel any cbd affects though.
---
Not really sure about the CBD effects of this, but the Gingergrass CBD sparkling water is one of my favorite sparking waters in general. It has a very different taste than any sparkling water I have ever had - more flavorful and "potent" than any La Croix you will ever have. Similar flavor potency to a Spindrift, with much more interesting flavors. My only gripe is that I wish they were easier to find in person!
---
---
I love the adaptogenic sparking waters from DRAM, lavendar & lemon balm being my absolute favorite. I have recently tried and compared the CBD sparking water sampler 12pack and was not as impressed as I hoped. I have previously purchased several of the CBD drops, my favorite being Big Mood. This dropper bottle is also a company favorite. A little dropper bottle goes a long way! I prefer my CBD concentrated in a quick dose because it does not leave a great aftertaste in the drink.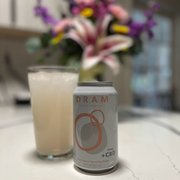 ---
What is Thingtesting?
Thingtesting is an unbiased place to research and review internet-born brands — because honest reviews help us all shop better. Learn more.
---
I bought the multipack online and loved each and every one! Overall, they are super refreshing but if I had to pick a favorite, it would be the Beauty Bubbles CBD water (so good after a long flight!) and the Lavender and Lemon Balm Herbal water. It's really hard for me to find sparkling water that I enjoy. I like to taste my water if it has a flavor in it so I shocked myself when I went out on a limb to order every flavor. I drink the water for the flavor as the CBD doesn't do too much for me. If I want a kick of CBD, I usually put in a few drops of Pepulum's CBD oil - super delicious in the Citrus and Blossom! I've been loving these pop up more around in shops and stores and hope to see them continue to grow!
Feedback
I'd like to see Dram introduce new flavors or even add in more seasonal flavors to their lineup. Overall, they're an amazing brand!
---
I haven't tried the ones with CBD, but I've tried Citrus & Blossoms and Cardamom Black Tea. Honestly, blown away by how delicious both were! I thought it would be a so-so type of sparkling water. Boy, was I wrong. They're elegantly flavored, refreshing, and love that I get to drink something so good for my body. Huge fan.
Feedback
They're often difficult to find at nearby stores. Sometimes they're at Mother's Markets, but other than that, they're rare to come across. I hope to see them around more!
---
Really subtle and sort of nuanced flavors, which I could see not being for everyone-- I really like them though! They're almost botanical. They're definitely on the pricier side for a sparkling water so these feel like more of an elevated treat than what I'd reach for for hydration.
---
I enjoy the simple packaging, makes it feel immediately luxurious, although I can't say the same about the flavoring... I understand that it is sparkling waters, but I find that the flavors are too muted... like.. tooo muted. I also didn't really notice a difference with the CBD. It was fun to try!
---
Really interesting flavored seltzer. I'm not a fan of cbd enhanced products in general because they contain such a small amount of cbd that I can't image they have any heath outcome... I just drink these because they are some of the healthiest tastiest canned drinks out there.
---
Really good, love the cardamom and black tea flavor!
---
I love Dram. My favorite flavor is Sweetgrass, one of their sparkling waters with CBD. It's completely unsweetened with the essence of Sweetgrass. The Beauty Bubbles are also excellent. I sometimes add a splash of red wine in them for a relaxing, low-alcohol drink. Another favorite product of mine is their Palo Santo Bitters. I most often use them in Topo Chico and have also used them in cocktails. This company is committed to sustainability and I really appreciate that.
---