Crispy Fantasy
3.67 • 3 Reviews
Crispy Fantasy makes high-protein, low sugar, and gluten-free cereal without compromising the sweet taste of childhood cereal.
crispyfantasy.com
Average rating from 3 users
Currently mixing my Honey Crispy Fantasy with normal honey hoops to mask the taste… Purchased at my local store for a whopping £5 after I woke up with an unusual cereal craving. Thought I'd go for the tried and tested Surreal but these were a bit cheaper. Absolutely disappointed in this product. Although low in sugar, the cereal has texture as if it was coated in it. It's also 'empty' tasting and has a funny aftertaste that isn't too pleasant.
---
Great experience! Had 3 bowls. Kept me full from breakfast until dinner!! Tastes just like my childhood favorites! Milk turns brown and the crunch is great! Perfect sweetness! Can't wait to see Crispy Fantasy grow. My pantry just got upgraded!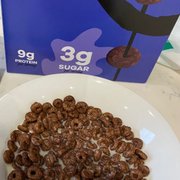 ---
Cereals are honestly delicious! I would highly recommend Crispy Fantasy. It stays crunchy in milk till the last spoon. It tastes like real chocolate and it's perfectly sweetened. Also, it leaves you functional after eating! What an amazing product - especially for those on a healthy diet.
---