Average rating from 45 users
95%Recommend to a friend
Converse Reviews
All

45
Converse shoes

2
Converse High Tops

2
Converse Low Tops

2
Chuck taylor

1
platform converse

1
Review highlights
Stylish
Complementary
Wardrobe staple
Flat
Unsupportive
Narrow fit
I have had Chuck Taylors on and off since I was in 4th grade. Navy blue high tops or low cut have been a wardrobe staple. I have also owned a black pair, a white pair, and a turquoise pair. Still the best after all these years.
Converse shoes
Chuck taylor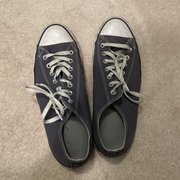 ---
a very beautiful American classic
---
---
we have all had a pair of these. I think they hurt personally as someone with wide feet and thicc ankles. they are very hard in the back and cause a lot of blisters, but they're still a very good shoes.
---
What is Thingtesting?
Thingtesting is an unbiased place to research and review internet-born brands — because honest reviews help us all shop better. Learn more.
---
I wear my Converses almost daily, they're my default shoes and have been for years. I had a pair of low tops last 5+ years and only stopped wearing them because I wore them so much I wore a hole through the sole. The new styles are my new favourite, the platform/more chunky style of high tops. There are so many colours and they really do go with everything, they last ages, and they're comfortable.
Converse High Tops
Converse Low Tops
---
i own a pair of platform converse and love the design and how well they go with my outfits. however, my issue is that they are not wide foot friendly 🥲 walking in them for a few hours is fine, but after 4-5 hours of being out, my feet start to hurt on the sides and near the sides of my big toes. i know they're not walking shoes like hokas are, but i still expect a certain level of comfort for all day wear in casual settings.
---
I've had a few pairs of these. Unfortunately, I'm very disappointed in how much these have increased in price for the canvas styles in the last few years. The quality is the same so I can't justify spending that much on a shoe with zero arch support and a material that's not known for being durable...
---
I LOVE the style of my platform converse. The only thing I cannot stand about them just about since I've had them is one shoe has a squeak in them. I rarely wear them now because I just can't handle the squeak, but they were my go-to shoe for a while.
---
a pair of low top white converse was a staple in my wardrobe for probably a decade. they have zero arch support and breaking in the canvas material can sometimes be a painful process. but are they iconic? yes. Would I buy them again? yes.
---
It's bee quite a few years since I last wore Converse. I didn't have the best experience with the shoes as they're so flat and caused me some pain in my feet when I wore them. I'm open to trying them again. I love the 'Converse look', but I'm just not sure they'll provide the best support.
---
Converse Platform High Tops are my go-to sneaker. They last years & bounce back great when thrown in the wash. I just purchased their collab with Stussy & was super impressed by the quality of the collab material. I wish they sold their laces on their website in different colors so I could customize the look of my shoes!
---