Byoma
Byoma makes a variety of skincare products driven by science.
byoma.com
Average rating from 16 users
93%Recommend to a friend
Byoma Reviews
All

16
MOISTURIZING GEL CREAM

4
gel cleanser

2
eye cream

1
serum

1
oil

1
I have very sensitive skin, redness, hormonal acne, and dry yet oily skin. the Byoma jelly cleanser has truly changed my life and helped my skin. my redness is significantly less, i do not have such terrible and painful breakouts, my skin has a more even tone and texture, I can go on. somehow my skin does not get as oily anymore and this cleanser makes me feel so good.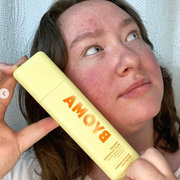 ---
SUCH an underrated skincare line! The packaging is super cute, the bottles have amazing pumps that always give you the perfect amount of product, and the products themselves ACTUALLY work really well, which is crazy considering how affordable this brand is!! Their moisturizer is oil-free and super hydrating yet light on the skin - my gooooo to lately under a full face of makeup! 👏🏻
MOISTURIZING GEL CREAM
gel cleanser
eye cream
serum
oil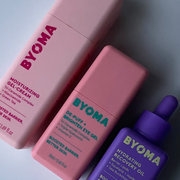 ---
---
I was not aware that Byoma was "Tik Tok famous" when I tried it-- I needed a better moisturizer and decided to give it a try when I saw it at Target. I absolutely LOVE it! The gel moisturizer feels light and keeps my face soft and moisturized all day. It also doesn't have any strong smell which I love! If you have oily skin I would recommend the gel-based moisturizer, and if your skin is dry it's probably better to try the rich (non-gel) version.
---
What is Thingtesting?
Thingtesting is an unbiased place to research and review internet-born brands — because honest reviews help us all shop better. Learn more.
---
I cannot believe how non-expensive these products are! Kinda makes you suspicious... I bought the Gel SPF after an exhaustive search trying to find a chemical daily moisturizer with SPF that didn't have an awful rating on YUKA. I don't ever really put it to the test - I live in Florida, but I apply this after my non-SPF moisturizer as an extra little step, regardless of whether I am going outside or not. It makes me feel better, but I can't say it's done the "beach test." I've also tested the toner, which I like in the PM, but the container is odd - the product is liquid and meant to be applied with your hands, but the package is screw top and the watery product tends to spill out of your hands. Would likely be better as a spray or something you apply with a cotton ball, but overall, still like it and just bought more.
---
I've been using the Byoma moisturizing cream. It's a nice balance between a gel and cream; great for summer! My only complaint is how many pumps I have to use to get enough product to cover my face and neck. The packaging is very nice, but it is a lot of plastic.
---
I discovered this brand at Target in 2022 and have been hooked ever since.. Their barrier building forward approach really is noticeable in their formulas and I can't get enough of how everything is legit under $20! I would 1000% recommend first trying their Moisturizer SPF 30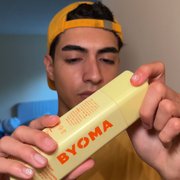 ---
I've been using the hydrating serum for almost a month now and I really love the formula, I can tell my skin feels very hydrated. My only con is the packaging, often times the dropper doesn't pick the serum and I need to tap the bottle on my palm to get the product out. Apart from packaging, I'm really happy with the purchase (from target) and I look forward to trying other products from Byoma!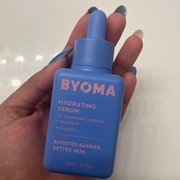 ---
Lightweight face mist with tri-ceramide complex, plus a powerful balancing blend of Allentoin and probiotic ferment that help's strengthen the skins microbiome. Put it on after cleansing your face and before and after moisturizing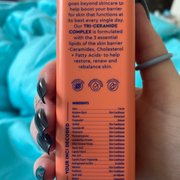 ---
BYOMA OBSESSED!! Byoma has completely taken over my skincare routine - my skin´s truly never felt better! I´ve also convinced my two sisters to start using it and they also love it. Aside from the budget friendly but effective products the packaging is also super fun. I´ve been following them for a while and love that they changed the moisturiser packaging based off customer reviews. Can´t wait to see what the come out with next.
---
I started buying Byoma products out of necessity when I was strapped for cash but needed to refill my skincare products. Honestly, I was at Target and the packaging looked cute but I also noticed the active ingredients were the same as some of my $50+ products. I slowly started collecting products and now my entire skincare shelf is Byoma. LOVE everything they do! The creamy cleanser is amazing too - perfect for removing makeup and SPF.
---