bkr
bkr makes a collection of refillable water bottles.
mybkr.com
Average rating from 5 users
100%Recommend to a friend
A water bottle that truly stands out as a fashion accessory. love the straw addition as well
---
I've owned a few bkrs over the years and really love the mouthpiece. They recently added a straw top option that I love. This is not my on-the-go water bottle since the silicone sleeve seems to attract dust or grime, but I love keeping it on my desk and on my nightstand. I was really pleasantly surprised by the quality of the silicone straws bkr makes for their bottles! It's definitely the best one I've ever used and I'm a big straw girlie.
---
---
I purchased the water bottle that had a black spiked rubber cover and then got a screw top that also had lip balm in it. It was such a clever little touch to have. I realized too late that I probably wasn't supposed to remove the spiked rubber cover, but I thought I had to to clean it and I could never get it back on, so I think they should be more direct about that. The lip balm top was cute, but I think I want to be able to select my lip balm. The water bottle is durable and doesn't leak and I actually liked the smaller opening.
---
What is Thingtesting?
Thingtesting is an unbiased place to research and review internet-born brands — because honest reviews help us all shop better. Learn more.
---
I bought a few of these bottles a few years ago and I still have them. Durable, sizes are great, colors are fun. Made of glass which is what I like to use. I just wish the tops were a little easier to manage for when you are at the gym. They may have made new ones since I purchased but still a great bottle.
---
I think this is the only glass water bottle brand with beautiful and protective sleeve in the market, and they do it right!! I love how heavy weight it is and the color is super nice. I have had this bottle for 2+ years and the color still stay amazing. Their handle is quite nice for carrying as well!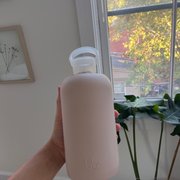 ---