Average rating from 5 users
100%Recommend to a friend
Love Bippy! I have a regular subscription that has been really helpful while working from home. I definitely recommend.
---
Bippy. How do I even start... I've never felt like a badass while wiping my ass. Toilet paper is one of the leading causes of deforestation and I'm saving trees with each wipe of Bippy. Every time this cushiony 3-ply cloud of bliss touches my bum I feel like a rich man. Who would have thought my ass would be contributing to global climate change. If you don't use Bippy, I simply won't use your bathroom.
Feedback
I could do without the individual roll covers and would prefer 12/24 packs in one wrap to save more waste.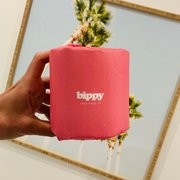 ---
---
Pretty much the only toilet paper I buy now. It's a good thickness and gets the job done.
Feedback
It's not clear if the individual packaging is also made out of bamboo. Would like to see something more eco-friendly there too.
---
What is Thingtesting?
Thingtesting is an unbiased place to research and review internet-born brands — because honest reviews help us all shop better. Learn more.
---
Toilet paper is fine - not super plush, but not thin or scratchy either. Love that they come wrapped in nice paper as it enables me to store them on an open shelf while still keeping a nice aesthetic in the bathroom :)
---
This brand is so stinking cute. I follow them on Instagram and am OBSESSED with their clever puns and fun pictures and graphics. I am hugely into holistic health and wellness and sustainable living, so I'm always trying to lessen my carbon footprint. A large portion of deforestation is due to toilet paper. I can't believe we're hurting our planet by literally wiping our butts. Also, toilet paper is often dyed with bleach. Ummm no thank you! Bippy is so incredibly soft and it gets delivered straight to your door. Saves me a trip to the store. LOVE.
Feedback
It would be really fun yet educational for them to write one quick fact about their toilet paper on each wrapper like Snapple does with their caps.
---