Average rating from 3 users
I love my new Bink mini bottle. I've been taking it on the go whether I'm at work or going for a quick workout. It has been great to take it anywhere and I like having a mini bottle for traveling.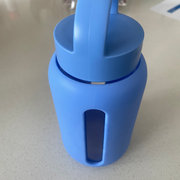 ---
I'm obsessed. This bottle helps me drink an unbelievable amount of water, in the best way. I didn't really realize how little water I was drinking before! I also love that it's dishwasher safe & that you can fit ice in the opening of the bottle.
---
---
When I had my water bottle, I loved it. Since it is glass, you want to be extra careful. I, unfortunately, broke mine :( has a super cool look and feel
Feedback
More durable glass?
---