Grooming glow up: Pet brands are jumping on the clean beauty bandwagon
Sulfate-free, all-natural shampoos and conditioners for dogs are here.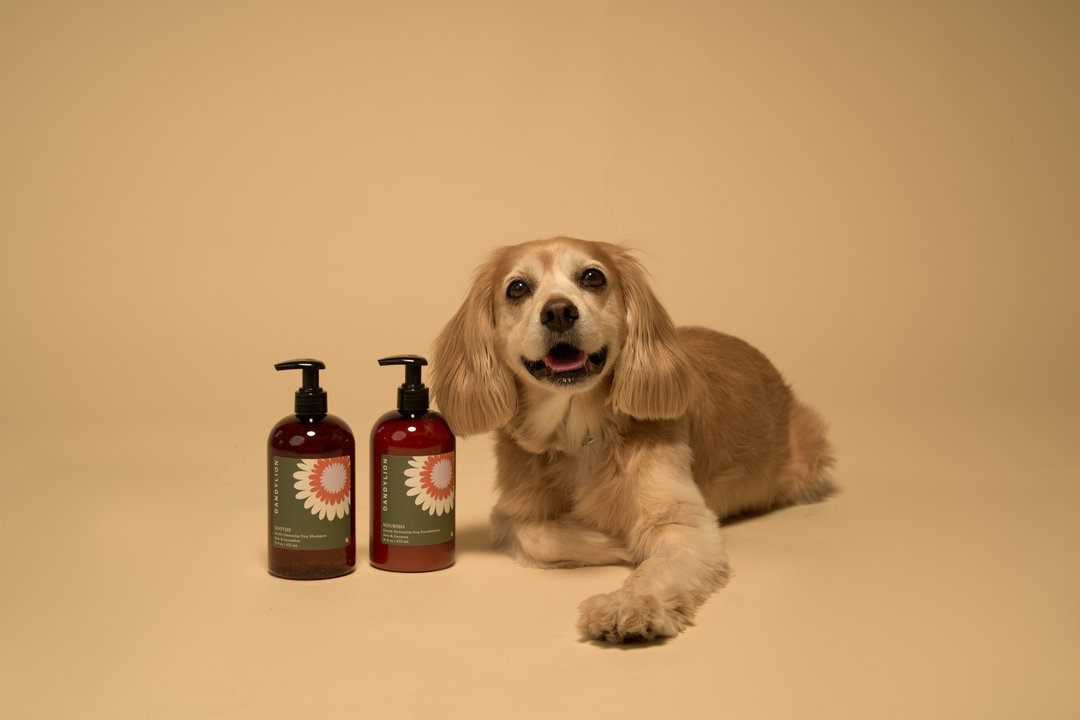 At the start of this year, a new hair care brand hit the market.
Dandylion, launched by serial beauty brand founder Carolyn Chen, sells pH-balanced shampoos and conditioners that are made from 99% natural ingredients. But unlike most clean beauty brands launching these days, Chen's products aren't for people — they're for pups.
Chen began working on the brand in 2021, after struggling to find products that were suitable for her 11-year-old cockapoo Mocha, who struggles with itchy ears, paws and skin.
"We spent a lot of money and time at the vets trying to figure out ways we could get her to stop itching," Chen says. "What we learned during the process is that it's extremely hard to pinpoint the exact source of the itchiness, [and] there weren't any shampoos gentle enough to help with her itchy skin."
Dog shampoos are often heavily scented and designed with human needs — such as the desire to not have mud tracked all over the house — in mind, rather than the dogs themselves. More recently, however, brands are starting to translate trends seen in the beauty industry to the products we use for our pets. In March 2021, the Ouai relaunched its pet shampoo, adding it to its permanent product line-up. The $32 formula, named Fur Bébé, contains ingredients such as aloe vera that it says helps to boost pet skin health. Rowan, launched in late 2020, sells "coat care" products that are made with human-grade ingredients and developed in partnership with a veterinary dermatologist. DOG by Dr Lisa is an Australian brand that sells vegan supplements and leave-in conditioners for dogs.
While fancy dog shampoos might not make sense to people who don't have a furry friend in their household, pet care products can be a lucrative business. According to the American Pet Products Association, sales of pet products topped $100 billion in 2020 and, given the number of people who adopted pets during the pandemic, this number is expected to keep growing at a decent pace.
Between March 2020 and January 2022, it's estimated that 9 million dogs were acquired by U.S. households. Meanwhile, in the U.K., searches for dog shampoos on beauty e-commerce site Lookfantastic increased 38% in the three months to August 2022.
Chen says that "itchy skin is an incredibly common issue" for dog owners, with "one in every three American households with a dog experiencing itchy skin issues."
"Similar to human personal care, there are some ingredients that can be more harsh on sensitive skin than others," she adds. Dandylion's products exclude sulfates, drying alcohols, fragrances and essential oils, and the full ingredients list is available for customers to read through (a rarity in the pet care space, according to Chen, and a significant contrast to human personal care products).
As with any emerging category of products, the clean pet beauty brands need to help their customers to build new grooming habits into their routines if they are to build up repeat revenue.
Chen says that Dandylion does this by designing products that are both easy to use, and look nice enough that they don't need to be stuffed away in a cupboard. In May, the brand launched a foaming paw cleanser that features a cleansing brush on the bottle, through which the product is dispensed. "A lot of dog parents use one-time wipe products to wipe their paws, or bring them to the sink and do a quick rinse," says Chen.
The idea of the rinse-free cleanser is that it creates a less messy, less wasteful way to clean paws — meaning dog owners are more likely to reach for it.