Meet Pearl Banjurtrungkajorn
Each week, we check in with a different member of Thingtesting's community to ask what brands they've spotted, what they're testing, and take a peek into their recent reviews.
This week's feature is Pearl Banjurtrungkajorn, she's the cofounder of Her Name is Nala, a dining club and events production company based in Bangkok, New York City, and Los Angeles. The collective has hosted events with brands including Jolie, Rosaluna, Fly by Jing, and Scout. Read on to discover the brands she's recently spotted and everything else in her current rotation.
Know a tastemaker who loves to try new things? Submit their name here.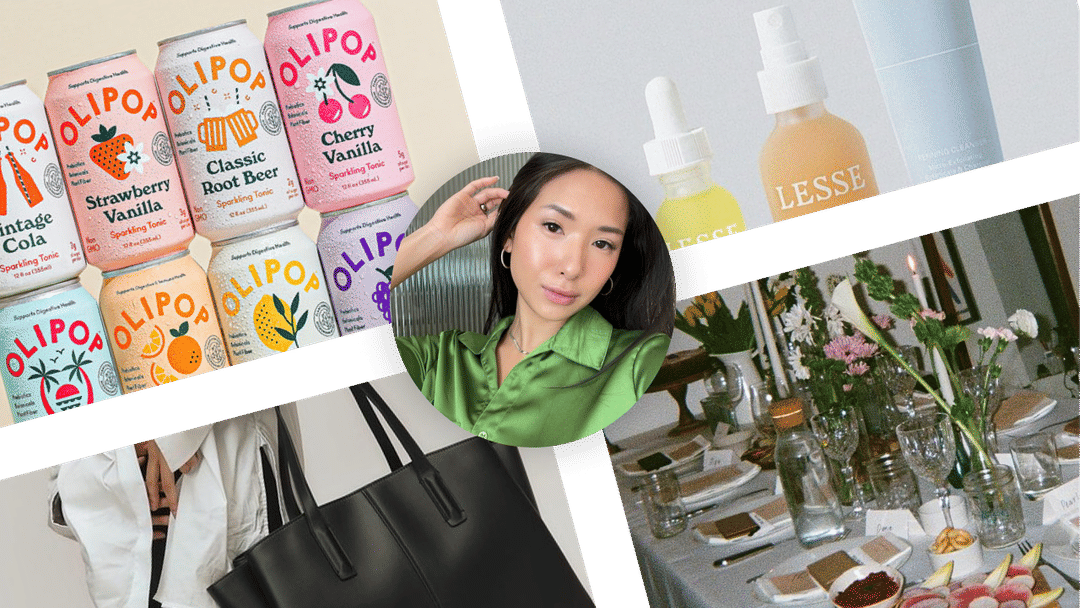 Hi Pearl, please introduce yourself.
I cofounded Her Name is Nala, a dining club and events production collective based in Bangkok, NYC, and LA, and oversee marketing for my family's kitchenware and hospitality products company, Horetica. When I'm not consulting hotels, restaurants, and catering businesses on what their dining equipment and tablescape should look like, I host community-driven culinary events for brands and my dining club members, which could look like anything from an intimate, themed 8-person dinner party in New York to a 30-person PR event or gallery opening in Bangkok.
What are your top hosting tips?
Always leave out something thoughtful on the table for guests to nibble on as they arrive.
Be playful and personal with the snacks you choose to serve, rather than defaulting to chips. I love leaving out sweet-and-salty miang kham-flavored cashew nuts that come with a vibrant combo of dried chili and kaffir lime leaves, as well as fried Thai anchovies sprinkled with toasted sesame seeds. This adds a personal flair to your dinner party, while also treating your guests to something a tad more special.
Along the same lines, being a good host means doing your best to make sure your guests leave feeling nourished, both physically and emotionally. My goal is to make them feel taken care of, as if they were just leaving from their grandma's house. My tip here is to be thoughtful and go the extra mile with details — know your guests well, anticipate what they would like, then scatter these surprise and delight moments throughout the dinner experience. Whether that be curating a playlist that builds up the ambiance for cheerful chatter, having 2-3 beverage options in the fridge just in case your guest prefers not to drink wine that night, or perfecting your timing for bringing out dessert (always have dessert, by the way.)
Also! Florals and serveware make or break the table. Keep them stylish, natural, and charmingly eclectic/mismatched at times. I prefer to use fresh seasonal flowers, earthenware plates, and wooden platters with natural oil finishes. I feel that they all complement each other well holistically.
What are some brands you've recently spotted?
Lesse. I absolutely adore the Ritual serum. It's natural, smells luxurious, and feels like a small spa experience that you can integrate into your routine everyday.
Freja New York. Freja New York makes seriously chic vegan bags that you can wear every day to work or run errands with. Their designs are timeless with a modernist twist and I'm utterly obsessed with the quality. My friend Jenny who's the founder is a rockstar with impeccable taste and I trust her with many things in life— bags obviously being one of them.
Fly By Jing. They make Sichuan oils and condiments that will change your life. Their Tribute Oil is the MVP — I put it on everything, from rice to fish to veggies. I recently collaborated with them on a dinner party I hosted with my friend Alex (@everythingalexcooks). We used the Sichuan Chili Crisp and Zhong Sauce in so many dishes, my favorite being the chili crisp vanilla ice cream sundae (I know it sounds like an unlikely combo but works terrific.)
What's a brand you recently tested?
Dream dinner party guests?
Oof, how many guests can I invite? Hopefully it's a big dinner party where I can host my entire dining club, as well as Pema Chödrön and the late Thich Nhat Hanh — two of my favorite Buddhist philosophers.
What else is in your current rotation?
Visiting temples in rural Thailand with my family and donating offerings such as food and basic necessities to monks. Every time we go, the monks gift us with a little verbal wisdom (a tiny sermon, if you will) to bring home and ruminate upon. I've found that these guidances help me feel more well-equipped to spend each day mindfully and intentionally.
Who are some spotters in your community who you look to for new things?
Not in my community per se but I subscribe to newsletters from Monocle, Varyer, Airmail, The T List by NY Times, Yolanda Edwards, and Lean Luxe and love how they collectively cover a fair ground of culture, design, food, fashion, and affairs.
Spotted on Pearl's dining table...
Printed spreadsheets, my Moleskine notebook, Jo Malone candle, home-cooked Thai food, wooden acacia serveware from my family's company Horetica, lots of flowers, and lots of condiments (it's true, us Thais love to pile on the hot sauce.)