Each week, we check in with a different member of Thingtesting's community to ask what brands they've spotted, what they're testing, and take a peek into their recent reviews.
This week's feature is Paul Longo, he's the founder of Fallen Grape, a natural wine brand from the central coast of California. Read on to discover the brands he's recently spotted and everything else in his current rotation.
Know a tastemaker who loves to try new things? Submit their name here.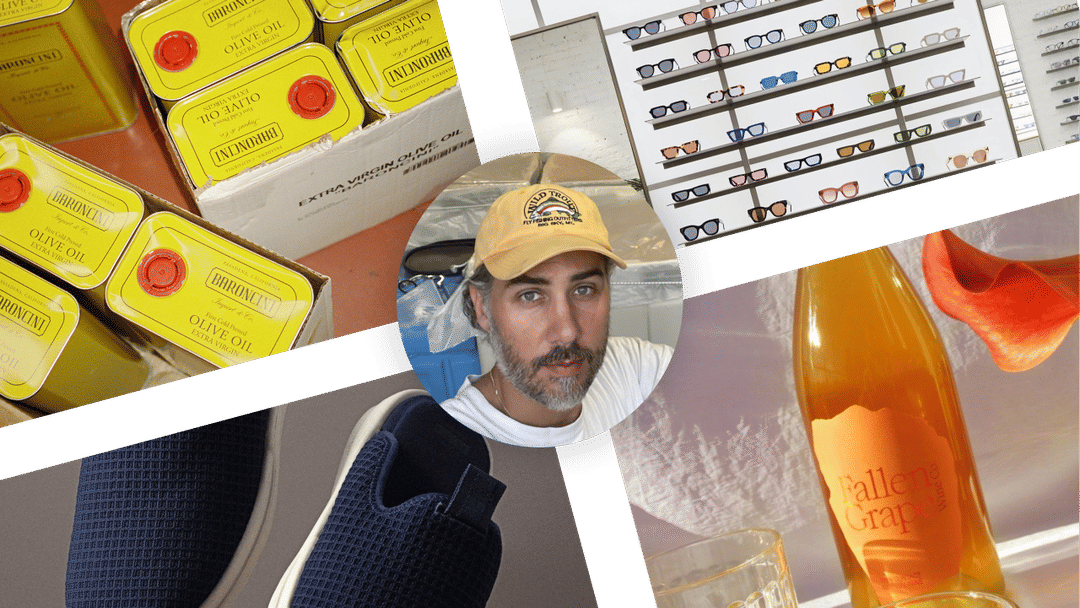 Hi Paul, please introduce yourself.
Hi! My name is Paul Longo. I'm the CEO of Fallen Grape Wine Co. and a Libra. I love building things with my friends and supporting brands that do right by humanity and the environment. But I mainly love fishing.
How has your time working in hospitality shaped the way you've thought about starting your own brand?
I've spent almost 20 years working in bars and restaurants in NY — I started as a bar back the day after I started college. It's made me super focused on making something accessible that we could pour by the glass, and ensure we have consistent supply.
What are some brands you've recently spotted?
Baroncini Olive Oil. This is an Italian food import company started by a friend of mine. Right now they have a super high quality olive oil but I def have my eyes open for future products.
Lusso. The most comfortable shoes to cook in in the GAME. They make some seriously pillowy shoes –– I've got some hunter green ones that I've been sporting around the house recently.
Akila Eyewear. These people make some rad glasses. I recently went into their LA store and got a pair of 🔥 tortoise shell shades. I love what they're up to.
What's a brand you recently tested?
Where does the name of Fallen Grape's first wine, "Mother," come from?
In my Italian family, we have a vinegar starter that's been in my family for over 100 years! Every time someone goes away to college or moves into a new crib, my mom will give them a massive jug of wine with some of the "mother" in it to make their own vinegar. Given this is our first release of many and hopefully for 100 years, it seemed fitting.
What else is in your current rotation?
I've been spending a lot of time chasing wine lists around town, currently there is no better restaurant for food and wine than Anajak Thai. I've also taken up golf but I'm terrible.
Who are some spotters in your community who you look to for new things?
My brother-in-law Zorro. He has a knack for being early on things as much as I hate to admit it. I also look to my NY friends who have been out here for a while like Alex Wilmot who started Gigi's in Hollywood.
Spotted on Paul's kitchen counter...
Baroncini Olive Oil, the very professional "coffee" label I put on some dope Open Spaces countertop containers, and a little Ghiaia espresso cup that I snagged from the store.