Online bakeries are booming. How do brands selling baked goods get us to buy?
Bakeries that launch online have to work hard to convince customers to buy. Their secret weapons are drool-worthy photography and delightful unboxing experiences.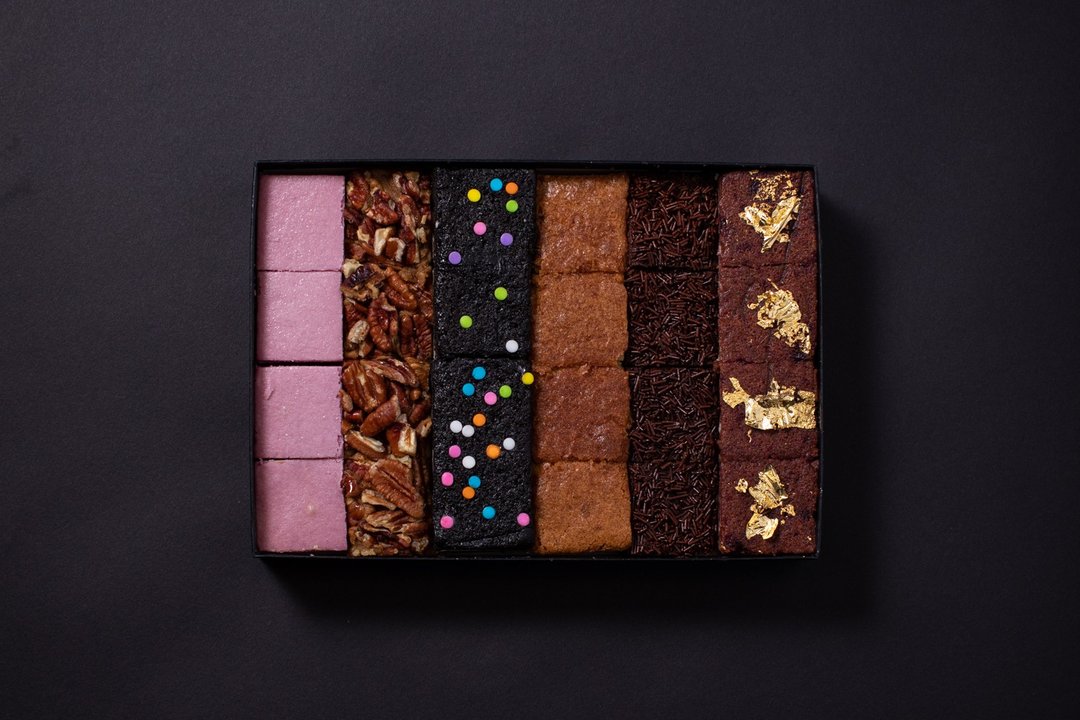 Blondery is a bakery that's in high demand — in fact, it has 11,000 people signed up to get updates on what its next monthly special blondie flavors are going to be.
Most recently, it was a West Indian box featuring flavors like guava, Jamaican rum cream and tamarind. Next up is a Día de los Muertos box showcasing Mexican flavors. Auzerais Bellamy, the brand's founder, says these boxes typically sell out in "minutes."
Bellamy launched the business in 2016 following a decade working in fine dining restaurants as a pastry chef. As the name suggests, Blondery's speciality is blondies, but the brand also sells layer cakes, baked dog treats and "trimmings"— the bits of the blondie left over after they are cut into neat squares. The products are baked in New York and shipped nationwide.
Blondery is not the only bakery that has decided to launch online instead of opening a brick-and-mortar store. Last Crumb uses a drop model to sell its fully-loaded luxury cookies, while From Roy has been selling panettone by post since 2015. Liger's! sells beautifully boxed cookies that have been named Miami's best — but can be shipped across the U.S.
Bellamy says that for financial reasons, selling online was the logical choice for Blondery — but the model has its challenges, and unlike a main street store, these brands can't tempt customers with warm, sugary smells wafting onto the street. "Customer acquisition for anything a customer can't taste first is tough," she says. "You have to rely on them taking a chance and your marketing being drool-worthy."
Unboxing for bakeries
The photography that features on online bakeries' websites is a marvel to behold. Last Crumb's website features syrupy chocolate and hundreds and thousands sprinkles spilling out of its cookies. Wunderkeks uses cross-section close-ups to reveal the gooey insides of its cookies — a tactic also employed by Allie's Banana Bread, By Roy and others. Blondery showcases the inside of its boxes, with their pleasing rows of blondie bites, against a sleek black backdrop.
It doesn't matter how good the cookies look online, though, if brands aren't able to get these perishable goods out to customers quickly. Bellamy says that at Blondery, the blondies will typically be baked a day after an order is placed, and then shipped out the day after that. At Liger's!, customers are advised to pick the faster — but more expensive — shipping option in order to receive their cookies in peak condition.
"There are people who would order if shipping wasn't so expensive, but it's a tough challenge because I don't want to have someone ship 3-5 days and then the cookies don't taste good," says Julian Cousins, Liger's! founder. "Sometimes if I see that, and I can upgrade their shipping for $2, I'll do it. The difference [can be] drastic in terms of taste and flavor. You aren't ordering trousers, you know?"
Blondery vacuum seals its boxes rather than individually wrapping each blondie bite inside in a bid to reduce packaging waste. "This means we're altering the atmosphere within that package to reduce the amount of oxygen and therefore keep the blondies fresher during transit," Bellamy explains.
Liger's! also seals its boxes to help the brand's cookies stay fresh — and to ensure ants don't get to them if the box ends up being left outside someone's door. Cousins says he has also experimented with the type of paper used to individually wrap each cookie — wax paper, he says, is the best at not absorbing the butter during shipping — meaning there is no risk of the bags looking greasy and unappetizing.
The effort required to get these beautiful boxes of fresh-baked goods out to customers is worth it, though. Bellamy says that when customers get their box of blondies and open it up, "you can literally smell it." "Baked goods that have been sitting in a freezer somewhere lose that. What makes our blondies different is that you can smell and taste the difference."