Blondery
3.33 • 3 Reviews
Blondery, a virtual bakery, delivers a distinctive collection of handmade blondies and layer cakes using carefully-sourced ingredients.
What is Thingtesting?
Thingtesting is an unbiased place to research and review internet-born brands — because honest reviews help us all shop better. Learn more.
Average rating from 3 users
Blondery Reviews
Experience
Saw on cbs this morning, waited forever for order. 8 dollars for two little bites is a little over the top . The pecan was good but not as good as they were saying on tv. What a ripoff. The other flavors blah! Too much wasted packaging also. I thought I was opening jewelry.
Experience
The packaging is beautiful! The brownies also felt freshly-baked - I'm impressed! My favorite flavors were Cinnamon Sugar and Pecan and Salted Caramel. Brooklyn Blackout and Birthday Cake were also good but they had a slight coconut taste which isn't my favorite, but others might like :)
High quality
Cool look & feel
Fun unboxing 📦
Tasty 😋
Luxury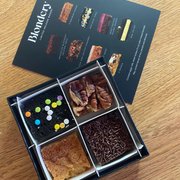 Experience
Based on the variety pack I received, I am planning on ordering more! The blondies were the perfect bite-size & were just enough to satisfy a sweet tooth. I could clearly tell each flavor apart -- I think the pecan salted caramel was my favorite (and that says a lot since I am obsessed with chocolate). The Brooklyn Blackout was a close second. I think these would make for a perfect treat to send someone since the pack came in an airtight seal so they were fresh upon eating.
Feedback
I would like the option to pick your variety. I see a couple flavors throughout the site that I would combine if given the choice.
Good for gifts 🎁
High quality
Worth the money 💸
Tasty 😋