Each week, we check in with a different member of Thingtesting's community to ask what brands they've spotted, what they're testing, and take a peek into their recent reviews.
This week's feature is Emily Sundberg. Emily is a creative director and writer. Read on to discover the brands she's spotted and everything else in her current rotation.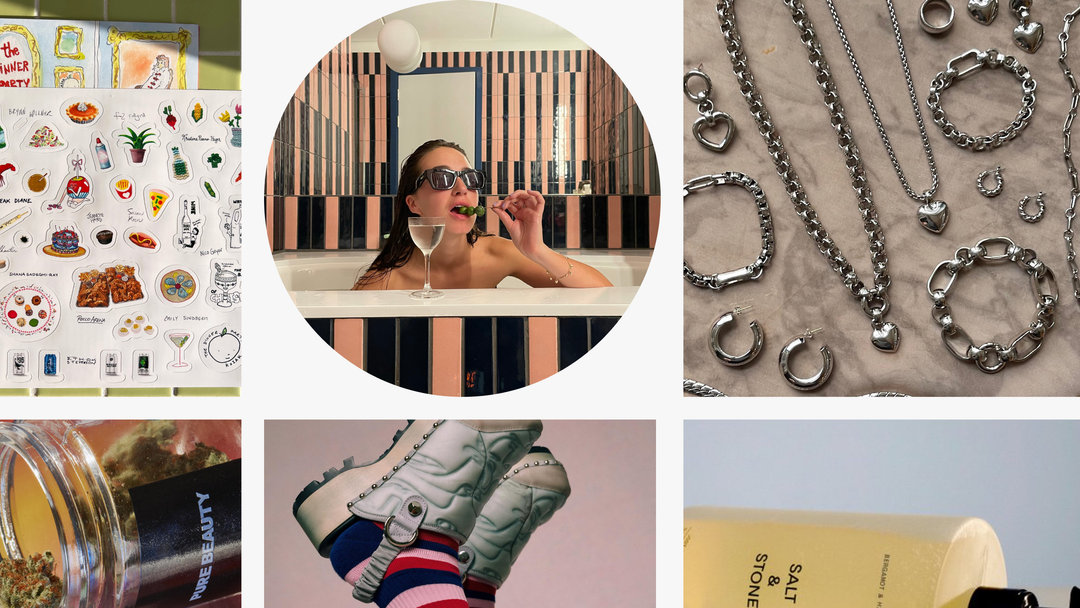 Hi
Emily
, please introduce yourself.
I'm a writer and creative director based in New York City. I'm particularly interested in human consumption around social media and the current state of branding (oneself, one's business, and beyond). I write for New York Magazine about things like the current state of retail, martinis, milk, Dimes Square, and dinner parties.  My most recent project is directing THE END, a film about the oldest privately-owned island in America. I write a daily newsletter about business called Feed Me.
What are some brands you've recently spotted?
BrainDead. What I like about Brain Dead is what I call "studio mindset." I'm constantly looking for other people in the world who don't define themselves with a specialty, but instead with a way of creating and moving through the world. I first discovered Brain Dead in 2016, and have been shopping with them (and watching their movies, and reading their emails) since then. I really like this lamp and the Shroom Cola perfume.
Dieux. This is my friend Marta's brand, but I'd be writing about it even if it wasn't. It starts with the fact that they don't create digital waste – every piece of messaging they put out has a purpose. The product line itself is simple - a moisturizer, a serum, an eye mask. I like people who solve problems and don't make stuff for the sake of making stuff.
Pure Beauty. Damn these west coast brands have a chokehold on me. Step it up New York. Just kidding. I love the little pre-rolls from Pure Beauty and I always grab a few boxes when I'm in LA. They're smaller than a cigarette box, and have this super satisfying feeling when you slide the drawer out of the case.
Laura Lombardi. On a very rainy night last fall I stumbled into Laura Lombardi. I had wanted a new cross for a while, and I'd seen Laura Lombardi's pieces on Instagram. I like how heavy the pieces are, I got this cross. I wear it almost every day.
Kozak NY. We're back to studio mindset, this time on the east coast. My friend Paige makes many wonderful things. Before the holidays, she made a community-contributed sticker sheet. All of the contributors made different parts of an essential dinner party (martinis, whipped cream, pasta) in their own style. I can't wait to see what else comes out of her beautiful brain. I love how tactile her creations are, and reminds me how much can be done when you put your phone down.
What's a brand you've recently tested?
Do you have any New York culture predictions for the new year?
That's a good question. Many of my friends are embracing secrets – posting less, keeping things closer to the chest. Restraint!
I think people in New York are rejecting NEW! NEW! NEW! and turning to classics.
What else is in your current rotation?
I like to write my friends little cards and notes – there were some new friends of mine whose names I'd never even written out before! Valentine's Day is always a good time to start that.
I like to go swimming at the gym. 
I love to order Cafe Yemen with my boyfriend. Sometimes we sit there and drink unlimited hot sweetened tea. Especially on chilly nights when we don't want to leave the neighborhood.
Who are some spotters in your community who you look to for new things?
My newsletter readers are quite keyed in on what turns me on and off. We have a good relationship with each other so I'd say I often turn to them for ideas and news.
My friend Maddy Moelis gives great advice and often brings new brands and companies to my attention. We think similarly in terms of discretion and critique.
I also have a group chat with all of my former Great Jones coworkers where we jam about new brands that are coming into our newsfeeds, and industry news. They actually inspired me to start my daily business newsletter, Feed Me.
Spotted at my desk: