After Cards Against Humanity, a new generation of conversational card games is here
A handful of new conversational card games are asking strangers, and peers, to ask each other deeper questions.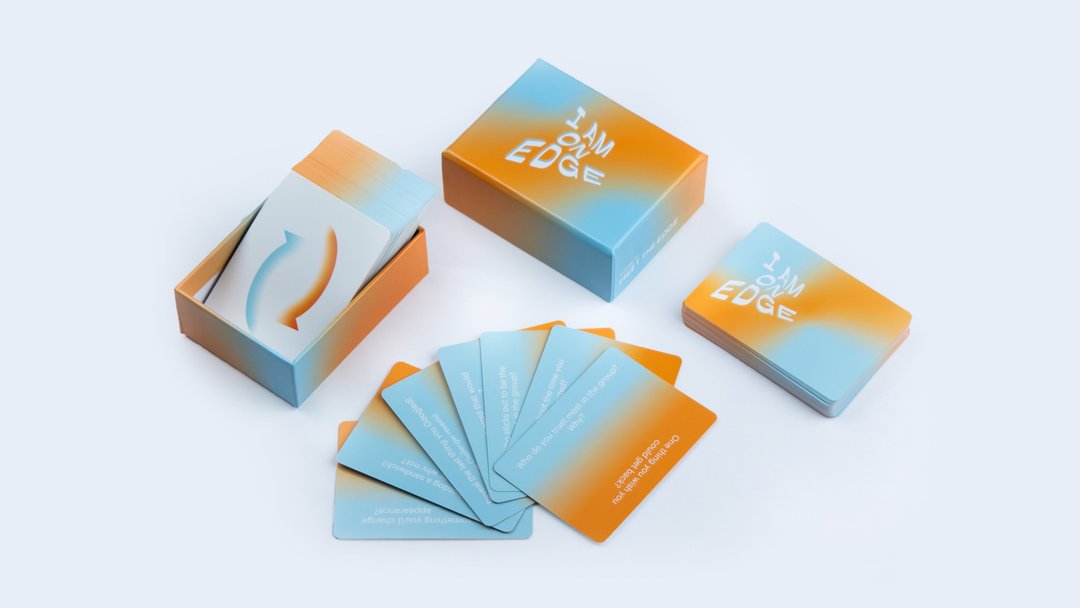 Which of your friends do you pretend to like? What's the worst thing you've done alone? Is God real?
These questions feature in a new game, I Am On Edge, where players pick from a deck of 100 cards and ask each other the questions printed on them. And if they make you feel uncomfortable — that's by design.
"[The game] is centered around this notion of what it means to be on edge," says its inventor, Grant Plotkin, who also founded the design studio, Meet The Edge. He wanted to create a physical product to gave a taste of the studio's creative capabilities, and a card game felt like the perfect way to "push boundaries and embrace vulnerabilities." "I really believe you get to bond with a fellow human when you feel like there's common ground, and these questions get people talking."
Plotkin argues that while social media has given people a megaphone with which they can broadcast their opinions far and wide, young people today find it hard to truly listen to one another.
I Am On Edge isn't the only game that's identified this social stumbling block. Launched in 2018, We're Not Really Strangers is a similar card game that also promises to help people forge deeper connections. Its questions dig into difficult emotions, such as, "what's the most pain you've ever been in that wasn't physical?", while a later expansion pack aims to get people talking about race and privilege. Let's Get Real, Bro is geared towards getting men to talk about their feelings, with questions like "what are you currently addicted to?" and "what did you not get from your dad that you'd want to give to your kid?"
The playing card playbook
The humble deck of cards has been around for over 1,000 years, having been invented in China.
But the idea of using cards in this way as a conversation starter is a little more new. Arguably, Cards Against Humanity is the most famous among this genre. The way the game works is that one player will start with a statement that's written on one of their cards, and the remaining players will finish it with the quips printed on theirs. The idea is to come up with the most absurd and shocking complete sentence — a concept that was wildly popular when the brand first launched in 2010, but has diminished over the years.
Today's conversational card games have clearly been inspired by their heavyweight predecessor, although now the focus is less on offending your fellow players and more on getting to know them better.
Plotkin says the 200 questions I Am On Edge's cards feature have been entirely crowdsourced in response to the prompt, "what is the question you've always wanted to ask someone, but been too afraid to?"
"Most of the questions people submitted, I felt, were reflective of themselves. Maybe it's something they've always wanted to be asked themselves," says Plotkin, who is 24 years old. "​​I look at my generation and I think it's hard for people to open up, and it's a lot easier through a screen. This game is designed to be played in person."
The I Am On Edge game is limited edition — at the time of speaking to Thingtesting, Plotkin says just 50 of the 1,000 decks originally printed are left — and has been particularly popular among university students who are looking to get to know their new class- and roommates. To celebrate the launch of the game last year, Plotkin says he threw a party with 100 strangers at a New York bar, and asked them to play.
While it is easy to imagine some of the questions — particularly those around politics, and how much people earn — could cause rifts, Plotkin says he hasn't heard of anyone falling out after playing the game. In fact, it's the opposite: Plotkin says he knows of three couples who have got together after playing the game. "That's a pretty cool metric."