Reviews
Arvin Goods
Experience
I got the naturally dyed socks & they're my fave socks now! Seem to be really high quality. I like that they have some compression but still feel like a standard cotton sock. Nothing too complex, just a good sock.
Good for gifts 🎁
High quality
Worth the money 💸
Sustainable products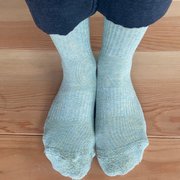 Davines
Experience
Really good products that also smell really nice.
Feedback
It took me a couple tries to find the shampoo that worked best for me. Would be nice if they had a sampler pack or some way to find the products that are right for you, since it is such a pricey product!
High quality
Worth the money 💸
Amazing website
Luxury
Home Dough
Experience
Tasty & convenient!
Feedback
More sustainable packaging & shipping materials.
Good for gifts 🎁
Tasty 😋
Amazing website
Love the brand's mission 💕