Arvin Goods
5 • 3 Reviews
Arvin Goods makes a collection of apparel accessories using recycled materials.
What is Thingtesting?
Thingtesting is an unbiased place to research and review internet-born brands — because honest reviews help us all shop better. Learn more.
Average rating from 3 users
Arvin Goods Reviews
Experience
I've bought numerous pairs (~8x) from them now ranging from different styles. Was able to get them on sale and loved most of what I bought.
Feedback
The standout socks for me are their hemp based athletic socks (here's an example: https://www.arvingoods.com/collections/performance-sock/products/mini-performance-hemp-biofiber). The hemp bio fiber is super breathable and comfortable. Might be my new go-to workout sock.
High quality
Eco-friendly packaging
Sustainable products
Love the brand's mission 💕
Experience
I got the naturally dyed socks & they're my fave socks now! Seem to be really high quality. I like that they have some compression but still feel like a standard cotton sock. Nothing too complex, just a good sock.
Good for gifts 🎁
High quality
Worth the money 💸
Sustainable products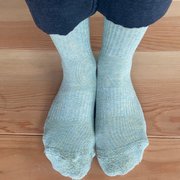 🤝
Friends with Arvin Goods
Experience
I'm very impressed with the quality and aesthetic of these socks - extremely comfortable and stylish!
Good for gifts 🎁
High quality
Cool look & feel
Worth the money 💸
Everyday wear
Sustainable products
Love the brand's mission 💕