Wanderruff
5 • 3 Reviews
Wanderruff makes high quality dog essentials that use recycled consumer plastics and sustainable materials to merge comfort and consciousness.
What is Thingtesting?
Thingtesting is an unbiased place to research and review internet-born brands — because honest reviews help us all shop better. Learn more.
Average rating from 3 users
Wanderruff Reviews
Experience
Our pooch has the Kona collar, leash and harness set and I'm telling you, we get compliments on it all the time. LOVE that it's a sustainable brand AND that it's good looking. This is such a chic and smart company… all of my friends with dogs are getting Wanderruff essentials as gifts this year 😂🙌
Lovely customer support
Good for gifts 🎁
High quality
Cool look & feel
Worth the money 💸
Everyday wear
Fit just right
Amazing website
Eco-friendly packaging
Sustainable products
Love the brand's mission 💕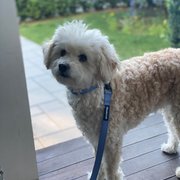 Experience
Love that I can bring sustainability into my dog's life in a stylish way! Obsessed with the lead. It is really comfortable and strong enough for a dog that pulls. Always in a hurry! Like them so much I now have 2 walk kits!!
Good for gifts 🎁
Cool look & feel
Worth the money 💸
Everyday wear
Works really well
Fit just right
Comfortable
Eco-friendly packaging
Sustainable products
Love the brand's mission 💕
Luxury
Good for gifts 🎁
High quality