Veri
2.32 • 19 Reviews
Veri offers a glucose sensor that syncs to an app to help you monitor diet choices and make informed decisions regarding your health.
www.veri.co
Average rating from 19 users
24%Recommend to a friend
This program is an extremely user-friendly way to see how foods affect our blood sugar and metabolic health. We get real-world-time readings, and useful feedback to modify and improve our lifestyle. I cannot believe how much better I feel. And I owe it to Veri.
---
Review from USA. Yes I really do mean to give 5 stars. If you actually read what you are getting into before purchase then Veri works out great if it fits your needs. No issues signing up, getting a prescription or getting the sensors delivered. As people seem to be confused by Veri's wording, here is what you need to know (and would know if you really pay attention to what their website says): Your Country: They use Freestyle Libre sensors, which only work in the UK and US. The reason they only work in those countries is because you need the Libre app to scan your sensor and there is only an app for the UK or US. The address to where you are shipping the sensor will dictate wether you get US or UK sensors. And if your phone is downloading UK apps but you shipped to the US they are not cross compatible and won't work. Me, I am in the US, so I made sure to download the US app. Make sure your make/model of phone is compatible with the Libre app. Just because you can download the app doesnt mean your phone is compatible. The Libre app uses a chip in your phone to scan the sensor on your arm. If your phone is too old, it will not have this chip. For iphone, you have to have an 8 or newer. For android, you will need to check. Your needs: this is a glucose monitor. Its not a weight loss program. If you already have a weight loss program established that uses your blood sugar levels to help you lose weight then thats great. But thats not what this is. You are not buying a weight-loss program. Its a glucose monitor. I am on the edge of being pre-diabetic and was tired of sticking my fingers to monitor sugar levels based on what I eat. I want to still eat the foods that I like but not if they are sending my sugars sky rocketing. I also don't want to just cut out everything and eat as if I am full blown diabetic. Their app(Veri app): I agree with others it's basically useless and I never intended to use it from the get go. The Libre app does what I need, I dont need another app that does the same thing. I also wasn't interested in their community access or whatever it was. I just want the sensors. The Veri app is not even used to activate the sensor, the Libre app is, so there really is no need for it. That being said I did download it at the beginning because I needed to contact their customer support. Veri's Customer Support: I contacted them via their app because my first sensor would not activate. They got back to me within an hour or two and troubleshot the issue. When they were not able to resolve it they referred me to call the makers of Freestyle Libre for further troubleshooting. Which I did, I called the makers of the sensor and they continued my troubleshooting, they deemed the sensor defective. Nothing I had done wrong. Nothing wrong with my app or phone. It must have just been damaged in handling. They shipped me a new one at no charge and I mailed the defective one back to the makers of the sensor. The sensor: It is the Freestyle Libre 14 day sensor. I had never used one on myself, but was familiar with them because I used to have a diabetic cat and the Vet would apply them to her. If the sensor can stay on a shaved cats skin, Im not sure how people have issues with them falling off early unless you are mangling or manhandling them, or just not cleaning your greasy skin before applying? It was painless when I applied, a flexible filament stays in your arm, not a needle. There is a needle on initial poke but you dont feel it and it then retracts into the applicator. None of my sensors have fallen off early and actually they are seriously stuck to me when I try to remove at the 14 days. I use mineral oil to help remove them because it's really on there. That being said I never submerge mine in water, only shower. So can't attest for that variable. These monitors are affected by taking Tylenol, they dont always read acutely if you have Tylenol in your system so keep that in mind and do a finger stick if Tylenol is needed. Once out of your system the sensors will again read accurate. The actual sensor itself only stores 8 hours of info, so you must scan at least once every 8 hours otherwise it begins to erase the oldest data to make way for the new. The app keeps all info that is downloaded via scan forever and does not delete data. Pricing: Now here is the big one. Essentially its $300 for 1 month of sensors. They send 2, 14 day sensors and then you have access to their app and community or what not for 3 months with the option to buy more sensors. This is what people are most peeved about. They dont fully read that you are only getting 1 month of sensors for the 3 month membership. Yes I understand that can be confusing. Its a 3 month membership to their app and community, not 3 months worth of sensors. The option to buy additional sensors are priced as $90 for 1, 14 day sensor. Or $160 for 2 of them(one months worth). Pricing Continued: When looking at other companies like nutrisense, they also have confusing wording that you need to fully read. Their 3 month membership is listed at $299 and yes, you do get sensors for the entire 3 months. However this is where their wording also gets confusing because it is NOT $299 for a 3 month membership, it is $299 PER MONTH for a 3 month membership. So actually is $897 for 3 months worth of sensors. With Veri, if you pay the $300 upfront and then purchase additional sensors $160 for 2 sensors, plus another $160 for 2 more sensors, that brings you to 3 months of sensors for $620, so thats still cheaper than nutrisense's $897 for 3 months . Pricing Final Thought: Read on to the prescription and shipping, you can have your Rx transferred and then pay like $130-140 per month for the sensors. And not deal with either of the companies Nutrisense or Veri. Prescription & Shipping: I am in the US so you have to have a prescription for these. After going through Veri's survey or whatever they approved and wrote me a prescription within an hour, they shipped quickly as well. I live in Indiana, the sensors were shipped from California and it took about 4 business days to arrive. Veri sends your prescription to a pharmacy called Truepill, and they ship you the sensors. The Truepill pharmacy has a policy where they will transfer your prescription to the pharmacy of your choice. My box of 2 sensors = 1 month of monitoring, came with 11 prescription refills (aka a years worth). So I can literally just ask Truepill to transfer my prescription to my local pharmacy and continue to buy monthly sensor's separate from Veri and use something like SingleCare or GoodRx to get a discount. At my local pharmacy a box of 2 sensors with GoodRx is $130. I dont use the Veri app anyways, since the Libre app has everything I wanted. And the Libre app activates the sensors. Yes I had to pay Veri $300 up front for 1 month of sensors, but that also included getting a prescription written for me without any hassle. The 1 month subscription from nutrisense is $399 so its still cheaper than nutrisense. I never intended to use the Veri app since you can use the Libre app for free, so I dont need to continue membership for their app or their community stuff. I now have a prescription thats written for a years worth of sensors and going forward it only costs me $130 a month after having my prescription transferred to my local pharmacy. Cancellation Policy: Veri is a membership!!! Which means, you need to cancel as soon as you're done getting your first order. I canceled even before that. As soon as I got the notification that it had shipped, the first thing I did was go and cancel my "membership" so that I wouldn't have any reoccurring charges of $300 in the future. It was easy to cancel from their website. If you scroll to their FAQs section there is literally a tab for "how can I cancel?".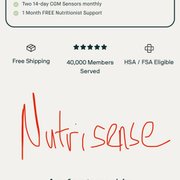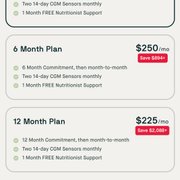 ---
---
They would send the sensors to a country where you cannot download an app. So you buy them, but cannot use them. Amazing experience (sarcasm).
---
What is Thingtesting?
Thingtesting is an unbiased place to research and review internet-born brands — because honest reviews help us all shop better. Learn more.
---
I got caught out with the membership that you sign up for. When you first see the product I says - 1 month of app and community access, but when you click through to pay it becomes a monthly membership. Pay attention and don't get caught out by the trickery. And the app is very weak and gives you nothing.
---
Heads up for anyone considering this service: The overall app experience and sign-up process is great. However, don't be fooled by the cancellation language on the website - you have to pay 3 months minimum even if you pay per month. I found out it wasn't for me and they refused to offer me a refund even though I won't be using their product anymore. Do not recommend unless you're willing to pay for 3 months of use minimum.
---
I am afraid i dont even have the right words to express how disappointing the whole experience with veri was. 1. The data you get in the app is the exact same data you get in the sensor app (libre app) and since you need the freestyle libre app because veri uses their sensors, the veri app is completely redundant. 2. The pricing isn't straightforward. I paid 109e per month, for 3 months. With this you get 2 sensors. I used mine back to back during the first month which meant for month 2 and 3 I literally paid 109e to have access to an app with data from over 1 month ago. This to me wasn't at all clear. They do have an option to pay for the app only and it is isn't 109e per month so it felt like a massive rip off 3. Customer support was also disappointing. When i asked (and i truly wasn't being ironic) if i really had to pay 109e per month to have access to an app with old data they brushed it off and just said i could simply order more sensors. Please, do not subscribe to veri.
---
I purchased this to gain insight into how the food I'm eating is affecting my ability to shed post partum pounds now that my little one is a year old. I found that for the first 2 weeks I appreciated understanding how my body was reacting to foods for example drinking a cup of oatly would spike my BG more than any other thing I ate or drank. Since I log my foods in the WW app I found the food logging to be redundant and there's the libre app which seems to tell you the same information as the veri app. I found myself getting food logging fatigue going back and forth so I eventually stopped using the veri app and just referenced the libre app. I think the major disappointment for me is I'm not sure what to do with the information I'm getting. For example what BG level means I'm burning fat vs storing vs nothing? So I'm not sure how the average person would use this to lose weight? I still have 2 months to go so I'm paying $100 for an app that won't help me to lose weight! I'll continue with WW and continue scanning with my second sensor but I wish I could cancel at this point.
---
Deceptive Pricing and Poor Customer Service from Veri App I recently had a highly disappointing experience with the Veri app, and I feel compelled to share my negative feedback regarding their deceptive pricing practices and their refusal to honor the pricing they initially provided at the time of purchase. My encounter with Veri App has left me thoroughly dissatisfied and frustrated. I was offered a promotional pricing for 3 month membership that stated $79 per month. It was only AFTER I had made the purchase and committed to the 3 month membership, they sent a receipt that said the $79 was only for the first month and not the remaining 2 months. Buyer Beware: Although on the surface, it looks like Veri is much less expensive than it's competitor Nutrisense, it only includes 2 sensors for the entire 3 month program, while Nutrisense is more transparent about their program offering, and provides 2 sensors each month, for a total of 6 sensors for 3 months. When you add up the cost of "optional additional sensors" purchased "at cost" from Veri, you end up paying almost the same amount as Nutrisense, but for a lower quality app experience. When I contacted Veri App's customer support to discuss the discrepancy, I was met with unhelpful and dismissive responses. They displayed a complete lack of accountability and refused to honor the pricing they had initially quoted me. It was frustrating to see such a lack of integrity and disregard for their customers. What makes matters worse is that Veri App did not provide any viable alternatives or solutions to rectify the situation. They simply brushed off my concerns, leaving me feeling cheated and taken advantage of. It's disheartening to witness a company resort to such deceptive tactics and then refuse to take responsibility for their actions. Furthermore, the lack of transparency and poor communication from Veri App throughout this process has been highly unsatisfactory. A company that engages in deceptive pricing and fails to honor its commitments cannot be trusted to deliver reliable and ethical services. As a consumer, it's disconcerting to encounter such behavior and be left with a sense of betrayal. I strongly advise against using the Veri App. If a CGM monitoring is what you are looking for, Nutrisense is a better business and a better app experience.
---
A great way to make CGM accessible and more available but I found the app didn't provide great insights. Great if you feel comfortable reading and interpreting levels yourself but just not a point you can learn or gain anything insightful out of the app in my experience. (It does make it super easy to log meals though to help you remember what you ate when with the readings)
Feedback
Would love to see insights be developed more.
---
Total waste information with additional expense. This sensor gives ? accurate data for diabetes monitoring.
---