Verb Energy
Verb Energy sells long-lasting vegan and gluten-free energy bars.
www.verbenergy.co
Average rating from 47 users
78%Recommend to a friend
Verb Energy Reviews
All

47
Chocolate chip banana bread

1
Peanut butter crunch

1
Chocolate sea salt

1
Perfect for a convenient, afternoon pick me up!
---
I have tried the chocolate chip banana bread, chocolate sea salt, and peanut butter crunch which are sold at Kroger stores ( King Soopers and City Markets). They are all pretty yummy and satisfying! The bars themselves are smaller leave me wanting a little more sometimes but the caffeine helps and I love that it's sourced from organic green tea! I do note that the protein is low in these bars and the carbs slightly high. They are sold individually at those stores usually like $1.99 a bar, if not on sales - which can be as low as $1 a bar.
Chocolate chip banana bread
Peanut butter crunch
Chocolate sea salt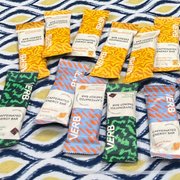 ---
---
I don't believe there was any significant energy boost when I ate these. I much rather drink coffee.
---
What is Thingtesting?
Thingtesting is an unbiased place to research and review internet-born brands — because honest reviews help us all shop better. Learn more.
---
Received a free product from Verb Energy
I got this as a sample to try and did not love the taste. I also felt it was a lot of calories for not a lot of protein.
---
I received a variety pack as a sampler and was excited for an energy bar that both offered both caffeine and protein. The consistency before the reformulation was good, but not all that different than other bars on the market. They are small, but offer a good deal of energy. Overall, they are good but not overwhelmingly special. I look forward to trying the new version - perhaps it'll prove me wrong!
---
It's perfect for a pre or post work out snack or on the go. Great packaging!
---
I really like this product because I'm not much of a coffee drinker, but love my caffeine. I've ordered directly from the company, which is a small local business, numerous times over the last year and a half. Some flavors are better than others, sometimes you get a fresher batch and sometimes you receive old stale ones. Sometimes they ship right away and sometimes you have to contact the company 3 weeks after they charge your credit card to ask why your order hasn't shipped. None of those were deal breakers for me, just minor annoyances. The one thing that I couldn't deal with was after being a customer for over a year, the company used my information to sign me up for a subscription plan that I didn't agree to. When I contacted customer service, they said I could cancel the order (I couldn't do it myself because I couldn't sign into my account without first agreeing to a FLEX subscription plan, which I refused to sign up for) but when I asked them to remove me from the subscription plan they just ghosted me. The only thing to do at that point is to contact the credit card company. Since Verb Energy refused to cancel the subscription plan, I had to get a new credit card number, but obviously I won't use the new one to place another order and start the whole cycle over again. Bottom line, it's a good product, but somewhat pricey and not especially unique. The unscrupulous business practices overshadow the positives of the energy bars.
---
It looks like I'm the odd one out here, but I think the Verb caffeine bars taste great! I love the s'mores flavor, but cinnamon roll isn't bad either. They're also really effective but don't get me wired, so I can have one later in the day to get me through the afternoon slump.
---
Ordered by accident in my Misfits box. Eating the cinnamon roll flavor right now and can't even finish it. It's super bitter. Not for me! Disappointing, because I like the idea.
---
Tried these when they first came out and I wasn't a huge fan - they had a bitter taste but they've definitely changed the recipe for the better. Love these now, perfect afternoon pick me up.
---