Velour Beauty
Velour Beauty sells easy-to-apply false lashes among other beauty products and accessories.
www.velourbeauty.com
Average rating from 3 users
These lashes are gorgeous, so fluffy and glam, a real statement maker. My one complaint is that the band is very thick, making it tricky to secure- the edges often lift and poke me throughout wear, which is a bummer for such expensive lashes. If the band were thinner, these would be holy grail.
Feedback
Thinner band and/or more tacky glue
---
I am not really a huge fan of lashes however when it does come to events I love wearing lashes. The only lashes that I absolutely love wearing and that actually don't make my eyelids feel heavy or weighed down are the lashes from velour. They are beautiful lashes that feel and look very luxurious.
Feedback
I wish that there were more natural styles.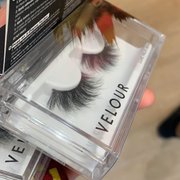 ---
---
these are nice mink lashes that look very natural, however i do not know how to apply them and always have difficulty with that
---