Town Hall Outdoor Co
Town Hall Outdoor Co makes sustainable outdoor apparel for kids.
www.townhallco.com
Average rating from 7 users
100%Recommend to a friend
Town Hall Outdoor Co Reviews
My son has their around town jacket & my daughter has the puffer jacket. Both jackets are very high quality, durable, functional & stylish. I have the trucker hat & just ordered a second one as it's my go to hat for hiking.
Feedback
When buying the kid jackets keep in mind that they run a little big.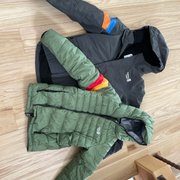 ---
Both of my boys have Town Hall apparel and it's so awesome! They love it (which they rarely comment on any apparel), and they look so good in it. The colors are different so it's easy to find them on the slopes or in a crowd of kids. It's lasted beautifully for two seasons now. One of them grew a lot in 3 months and we easily took out the arms to keep it fitting well. Going to pass both of them down to their younger cousins! Thanks for making a great product, Town Hall Co!
Feedback
Jackets are great for skiing b/c it gets cold out there and these keep my kids toasty. Hard to find a jacket like that!
---
---
Friends with Town Hall Outdoor Co
My eight year old daughter has been getting full use of her Town Hall puffy jacket...back and forth to school (she walks to 3rd grade so gets to experience all the benefits of winter living) and on the slopes. She prefers to go the unzipped route despite Dad's advice!
Feedback
What I really like about the Town Hall brand is its unique mix of authenticity, functionality and style...along with the sustainable aspect!
---
What is Thingtesting?
Thingtesting is an unbiased place to research and review internet-born brands — because honest reviews help us all shop better. Learn more.
---
My kids have TH jackets and they are fantastic. Rugged, durable, good looking, an warm! TH has done a great job designing outerwear that work for kids! It's no different than the revolution that was "women's specific" outdoor clothing. Now, its the same revolution for kids clothing! Well done TH!
Feedback
Not much... They have though of most everything in these jackets!
---
I bought my husband the adult puffer for XMas. This is a guy who wore the same ski shell for 20+ years. Very particular about gear. He wears his new puffer daily- loves it.
Feedback
The quality of the product is top notch. Branding is simple yet elegant. Color scheme is playful on a serious product. The brand recognition locally is heartwarming- people love Robin and love the growth story of her amazing company.
---
Friends with Town Hall Outdoor Co
We have 3 children and all are wearing and loving Town Hall! We have the Mountain Town Jackets, the DT Puffy coats, the MT Ski Pants and Bibs. Town Hall is the family uniform for our children! The Puffys are worn daily to school and most days are paired with their MT ski pants. Our daughter switched and loves the MT bibs this season. When they are not required to wear their team ski coat - they immediately switch their ski pass to their Town Hall Winter Jacket and hit the slopes! Quite simply it is their go to clothing for all things outdoors.
Feedback
This is our 2nd year in our Town Hall outerwear and all are still in great condition. We were able to adjust the sleeves and pant length to have them grow with our kids. Our oldest recently had a significant growth spurt and we were able to extend his time in the gear, and now his are still ready to be handed off to his younger siblings. So if you have children wearing size 5-14 get them into some Town Hall before they outgrow it and miss the opportunity.
---
I love what this brand stands for, but then the gear is also really great quality and fun colors.
Feedback
Pay attention to the different options in jackets, they have good ones for different uses but you need to read about the to figure out what's best for your kid and your lifestyle.
---