Average rating from 3 users
The James Brand is an innovative maker of knives and various everyday carry items and accessories. They are not just selling these items, but designing and redesigning products from the ground up. They offer products at various price points and in various colors to suit any customer. What's more, their products come with a lifetime warranty. What else is there to say?
---
Just a really solid brand and products. Everything feels well designed and just what it needs to be. Also when I bought an ulu recently from them the package included a handwritten note and a single Hi-Chew for some reason, but I love those weird-random surprises in packages.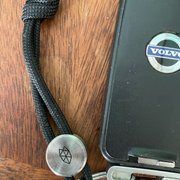 ---
---
One of the best knife companies on the market. I've purchased 3 knives in total for myself over the years and one for a friend as a present. They're made of serious quality and only get better the more you spend with them. Their lower end knives are great but the feel and quality of their superior line is amazing. I can't imagine spending money on another brand if I need to get a knife.
Feedback
Their packaging is beautiful. Quality is on point. Highly recommend purchasing a knife from these guys. They were making pens for a little bit but stepped away from that as a focus. I was interested in their pens because of the quality of their knife but I missed out.
---