Table22
4.33 • 3 Reviews
Table22 helps food and beverage creators including restaurants come to life through subscriptions featuring food, content, and experiences.
table22.com
Average rating from 3 users
Longtime fan of Table22, found them through Bufalina's wine club in Austin. I joined as an employee in March 2023 with respect for their enabling of restaurants to unlock additional revenue and provide alternative experiences to existing customers. I'm part of our butcher club with WINNER in Brooklyn, our pasta and provisions box with Il Buco in NY, and our wine club with Stranger Wines in NY.
---
Ordered a restaurant-at-home experience kit from SheWolf, Detroit, our local favorite Italian restaurant, during the pandemic. Got a pasta kit meal for two ($80) that was easy to prep and just as tasty as it is in the restaurant. The best thing about Table22 is the feeling of supporting a small business, especially during the pandemic. Loved that it also included a loaf of bread from the local bakery.
Feedback
Not sure if this service is something that I'd continue to use after the pandemic. While the food was awesome, and the price point more accessible than eating in the restaurant, it still doesn't beat a real restaurant experience. I would love it if the kit came with some spices, oils, or other pantry goods that were unique to the subscription box and made the restaurant-at-home experience special.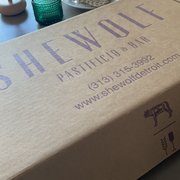 ---
---
I think this is an incredibly smart concept. I have been a member at several of my favorite restaurants and I love being able to incorporate some goodies like a sauce, or their wine eye into my daily cooking.
Feedback
It is not the full experience of restaurant, and I think I would rather not do the clean up for a full meal. But if you can find a T22 Sub with more pantry items, I think it's an amazing way to mix in a little spirit from your favorite establishments in the normal day to day.
---