Average rating from 17 users
88%Recommend to a friend
One of my favourite products and brands I've bought from, I love having a sustainable toothbrush not made of plastic. The metal gives it a great feel and it's so aesthetic. I've used sonic toothbrushes for a long time and prefer them, but they can take getting used to. All the accessories are so well thought out and designed, I use the travel case all the time. My first toothbrush stopped charging after less than a year of use, customer service were incredibly helpful and replaced it quickly. I recommend Suri to everyone
---
What can i say. It has changed the electric toothbrush experience for me. The SURI brush is by far the best brush experience i have had since i made the switch to electric. I have picked out a few qualities that have stood out to me in the few weeks i have been using it. The design gives the feel of a luxury experience in contrast the the clinical and medical feel of it's competitors. The look and feel of the brush and accessories is second to none. Brush, case, charging equipment all beautifully designed and futuristic feeling. The battery life is immense. Before i was changing my toothbrush every 3 days. However, i am yet to recharge my Suri despite it seeing action twice a day for the past few weeks. Am super impressed. I really like the brand story and it's sustainability credentials. I always had this nagging guilt that I was contributing to plastic waste with my old brand but now knowing the longevity of the products, the plant based materials used and the brands commitment to repairing rather than replacing, i feel comfortable knowing i am getting a good clean without being destructive. It's 'gunkless' if that is a word! :) I used to get really grossed out by the pool of pastey watery gunk that gathered at the bottom of my previous toothbrush. But no longer. A combination of the innovative design and the magnetic clip that keeps it off bathroom surfaces, i dont have to deal with that any longer. All in all, i think this is a 10/10 product. Looks good, cleans good, does good. What more do you want.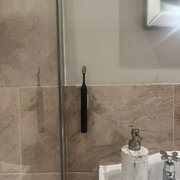 ---
---
Finally! I saw an ad for this SURI brush and decided to investigate further before committing to buy. In the ad, they mention that 'every toothbrush you ever owned still exists'. This in itself is a powerful statement and reason enough to buy a sustainable toothbrush with recyclable heads so I took the plunge and bought one on Amazon. Suffice it to say that I was not disappointed. It is actually beautifully made, elegant, and quite thin. I have had it now for over 6 months and took it on a 30-day work trip to southern Africa earlier this year. Amazingly I did not need to recharge it till I got back home! In terms of performance, it stands its ground with the most expensive electric toothbrushes I've owned and leaves my mouth fresh and clean after use. The case has a snazzy ultraviolet light that cleans the brush head after every use, a really nice touch! I highly recommend this brush for your teeth and our planet!
---
What is Thingtesting?
Thingtesting is an unbiased place to research and review internet-born brands — because honest reviews help us all shop better. Learn more.
---
Amazing product. The unpacking experience is great. The wall mirror sticker is amazing. It feels good in your hand - makes me want to pick it up and brush my teeth. The charge lasts forever. I love the UV light... Its aesthetic and looks amazing in your bathroom. Highly recommend.
---
I really love this. I had been searching for a sustainable electric toothbrush and am so glad to have found one. It also is no where near as loud as the Phillips Sonicare which is nice! They include a prepaid shipping label to send back brush heads. They really couldn't have made it easier or more sleek!
---
EDIT: Updated my review to 5 stars. I LOVE this toothbrush and even convinced my partner to get one too. This is by far the best one on the market in quality, size, charge time, battery, functionality, and sustainability. ORIGINAL: I've been following SURI for a few years and wanted to purchase their toothbrush back in 2020 but they hadn't launched in the US yet. Cut to 3 years with a BURST toothbrush and I felt like it was not only pretty large (especially when packing for weekend trips) but kind of wasteful since their replacement heads can't be recycled. I decided to follow back up with SURI and I'm so glad I did. SURI is made of all sustainable and plant-based(!) materials which is super unique, has a thinner (but still a good weight in the hand) toothbrush, a UV light-cleaning case for the brush, simple and thin (think: portable) chargers, and a magnetic mirror mount. Plus, the aesthetic is gorgeous; definitely hitting that minimalist vibe with a sustainable and earthy-feel. The brush itself has a few different vibration settings and the bristles are medium firm. The replacement heads are fully recyclable which is just the icing on the cake for me. I give it only 4/5 stars because I've only been using it a few weeks so far and can't tell the longevity of the product yet, but I do recommend it so far!
---
A fantastic toothbrush - it really changes the way you see the ritual of brushing, making it enjoyable again. Beautifully designed, thoughtful, and keeps the planet in mind.
---
I got my SURI toothbrush a week ago, and since the first brush I've been blown away! As someone who has put off an electric toothbrush for a long time, the only way I can describe the feeling is that my teeth feel like I've just left a professional dentist clean. They feel polished, shiny and super clean! The product itself is incredibly well made - think the 'Apple of toothbrushes'. Build quality is exceptional, high quality metal & it stands up on its own in a way that defy's gravity! I'm writing this because I'm honestly blown away by the product and have got some on order for family for Christmas. Keep up the great work guys!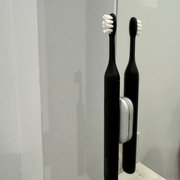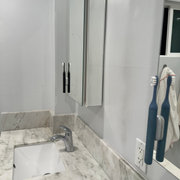 ---
Doesn't clean well compared to my Philips Sonicare. Tried it for weeks and the plaque build up was ridiculous. Tried to return with their 90 day policy but they will only reimburse you if you provide a provide a tracking number with your return. I've never had an issue with a return not showing up with a company so I've misplaced the receipt somewhere in my house. So keep your tracking number handy if you return or they say their "fulfillment team" can't find it conveniently.
---
Why did I buy a Suri? Because I appreciate excellent industrial/product design.. Was it worth it? Yes. Everything about the product itself is appealing, from the weight of the unit, to the feel of the materials, to the color. It performs up to par, equivalent to my prior Sonicare - my teeth get very clean, and my dentist says so. It did come to me via air shipment from the UK, which seems a bit inefficient from a fuel-use perspective, but given that nearly everything an American buys is shipped from the other side of the planet, this can't really be a comparison point.
---