Sunnies Face
Sunnies Face makes hydrating skin gel creams that are gentle and safe for sensitive skin.
www.sunniesface.com
Average rating from 9 users
86%Recommend to a friend
Sunnies Face is a marketing success story built on the backs of its celebrity founders with aspirational jetset lifestyles. They do not scrimp on brand experience which is honestly a lesson for marketeers. They were able to take ideas from popular brands and incorporate them into the local context and turn it into their own thing, even though the influences are quite clear. The products themselves are affordable. I would say the biggest selling point of Sunnies Face products are that the colors they have are well suited for the Filipina, morena, medium skintone. I wouldn't call them intensely pigmented as they are full of silicones -- the texture is just so different from other lip products -- and they are very drying. The prices are drugstore brand equivalent and I definitely think that there are other products that look and feel better on the skin, though the packaging might not be as cool. Lastly, as I've mentioned in a previous review for their sister company, Sunnies Studios -- the founders are aspirational and cool, but they are problematic, in terms of the values they peddle (apologists to the Philippines' former despot and his plundering family), and how they treat their employees (see news articles about not giving employees back pay for several months). While I gave their products a try so I can leave an honest review, their brand is not something I will be actively supporting in the future.
---
Sunnies Face products have always been a big hit or miss for me. The Fluffmatte lipsticks and Airblush cream blushes are fantastic and come in a very good variety of colors. I am also a fan of the Eye Crayon formula. The products are also very ergonomic and have a nice minimalist design to them. They make very good gifts too and are very reasonably-priced!
Feedback
I was not a fan of the highlighters and nail polish formulas. I wouldn't fault the brand, they just weren't for me!
---
---
Packaging is super cute. They are also very reasonably priced. They go on sale all the time if you're curious to try. Their Airblush is really light and easy to work with. Easy to apply, but not very buildable. The more you add product, the more it kind of spreads around and suddenly you have blush all over your cheek. There's a high amount of silicones in this, which is why they're so easy to spread. Their Fluffmatte lipsticks come in gorgeous colors. They offer colors that should be part of your lipstick wardrobe and work for a range of skin tones. They're great for everyday or glam nights, but you won't find crazy colors, like purple. Major is a brick red that will work on many skin tones. Other popular colors include Vacay and Baked, which fall on the nude colors spectrum. Fluffmatte lipsticks are also very high in silicones, which is why they're so lightweight and easy to wear. They're not as drying as other matte lipsticks, but you do need to refresh with a lip balm at some point. My most recent discovery are the Lip Treats. So moisturizing and sheer. I brought three colors, but Poppy and Chai are my favorite.
Feedback
These recently became available in the US, but the shipping takes forever and ever. I've ordered 3x and every time it takes a full week for them to ship out the order and then another week to arrive. The transit time doesn't bother me, but why would it take a full week to ship out in the first place? I almost knocked another point off because of this, but the products themselves deserves 4 points.
---
What is Thingtesting?
Thingtesting is an unbiased place to research and review internet-born brands — because honest reviews help us all shop better. Learn more.
---
Sunnies Face is the world's best kept beauty and skincare secret. I wish it was more available in the US/UK!!! It's from the Philippines. *disclaimer I am friends with the founders, but look at a lot of beauty brands so feel neutral!* Sunnies Face has the rare combo of BOTH incredible branding/packaging AND products that are actually really effective and work. I know the team has spent so long researching the products to make them incredibly high quality, and you can tell with the finish. They take inspiration from some of the world's most innovative beauty markets, like Korea. I'm obsessed with Fluffmate- their iconic lip product that Rosie Huntington-Whiteley used and made go viral - the texture is incredible so feels amazing to apply, plus I'm a big fan of matte nude colours and the shares are really flattering. I also love the Airblush which is cute on both cheeks and lip. I'm desperate to try the Lip Treat asap and The Perfector looks like my DREAM product: will review once I have. Expectations are high!!
Feedback
Shipping overseas, please!!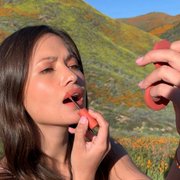 ---
Their products are affordable and the quality is really good. I have the lip dip lipstick and I love it. Would love to try their blush.
---
Looks can be deceiving. If we're talking about branding and packaging, Sunnies Face is for sure leading. But they also lack quality and consistency. The airblush lasted 30 minutes until it completely faded, was so excited to try their play paint because they have the cutest colors but the quality is very streaky I needed to put 4 coats of nail polish. Lifebrow couldn't hold my eyebrows. Completely disappointed.
Feedback
Reformulate your products!!!
---
First of all, packaging and marketing 10/10. Take my money with all that they do. Now on to the actual products. I have their fluffmatte lipstick in multiple colors, lip treat in girl crush and jellyfish, lip dip in ginger and girlcrush, airblush in multiple colors, all eyecrayons, and finished a tub of the dream cream. The fluffmattes were the first lipstick I've ever tried in that formula. I feel like that was the prototype that then every big US company tried to emulate. While they're comfortable to wear, I don't like how they're not long lasting (especially as a girl who rarely reapplies). But the shades they have are absolute chefs kiss. Yes, at some point the shade range looks hella nuanced in a nutshell but I love that all undertones will find a shade that compliments their complexion perfectly. The lip dips are definitely more long lasting but they do tend to become crusty on your lips as a result. The color stays but if you look closely, you'll see the texture of your lips especially if your lips are dry. The blurring/blotted effect does help mask some of it but over time, the texture of your lips becomes more evident which is something to look out for. The lip treats are nice. Nothing show stopping but I couldn't help but buy them for the sake of adding on to my collection of Sunnies Face products. The eyecrayons, when they first came out, got me in a chokehold and I just had to get my hands on all of the colors. I bought them overseas and was obsessed with the colors and the effortlessness of their application but on the real, I don't use them that often. I'm not much of an eyeshadow gal anyway but I will use them when I want to spice up my make up look in a way that still feels casual. Although it's a different formula, I for sure prefer these eyecrayons over the glossier skywash. The airblushes are my top most used product from them. The texture and wear of them are so good. Its whipped but nicely pigmented. They last a long time on my cheeks as well. The color shades are all so good and up my alley, which is why I have so many of them. The dream cream moisturizer is super good! I used it all up and would have repurchased more if I had more accessibility to it. It's super nourishing and it has no scent, which is something I love.
---
Yay for Filipino brands! They have high-quality products that are price worthy. Love the fluffmattes, lip dips and pouches (and their annual planner)! Packaging is always pretty too!
Feedback
The nail polishes have such fun colors but streaky and blushes fade too fast. Mascara is not waterproof (sad for my asian lashes).
---
sunnies face ranges from really good to meh tbh. so here's all the products i have tried :> fluffmatte - 4/5 - my fave!!! i own so many of these ^^ feels light on the lips but a bit drying airblush - 3/5 - great to apply and lovely colours but in the heat, it will be gone in 5 minutes lashlift - 2/5 - love the applicator, but it's not all that lifting for me which sucks :< nail polish - 1/5 - was not for me, the white polish was vv streaky and just not my thing eye crayon - 4/5 - i used this a lot ^^ easy to apply and nice formula makeup remover - 5/5 - great! a little goes a long way lip treat - 4/5 - love it ^^
Feedback
the airblush and lashlift formula could be drastically improved
---