Average rating from 3 users
Leo and Ozzy love both the beef and salmon unkibble recipes sm! They both suffer from separation anxiety so I like to use it as a high value treat in their snuffle matts to keep them busy while I'm away.
---
My dog absolutely loves Spot and Tango. Great ingredients, great customer service, and great company.
---
Jasper loves Spot and Tango's unkibble. We always strive to give him the best quality food and sometimes it's hard to feed him cooked or raw food if we are traveling or if he's in day care. So having fresh food easily available for him makes me happy!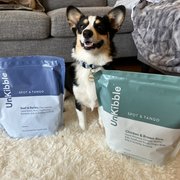 ---