Snuggle Me Organic
Snuggle Me Organic makes a collection of minimal, modern baby products.
snugglemeorganic.com
Average rating from 4 users
75%Recommend to a friend
Snuggle Me Organic Reviews
My baby lived in this as a newborn (supervised of course). I never bought a cover so the material was a little rough for baby skin. I ended up putting a Muslin sheet on top. This has a short period of time of use, but totally worth it. I also got a pair of pants and my baby just started to fit in them. The pants are awesome!
---
This product came up in every single "must have" baby product Youtube video, but I think its kind of unnecessary. Our baby wasn't very comfortable in it during the day, and his parents were uncomfortable with him sleeping in it during the night bc of the suffocation risk that everyone is talking about... So - it's cute, every baby is different, etc, but this is one of those products that I'd just wait to buy for after baby has arrived, and if they are showing signs that it could be worth it for you, buy it then. Oh and also - if you do - get a cover! Much easier to wash than the whole pillow.
---
---
I've used the infant snuggle me organic lounger with both my kids. It's a great little spot for them to rest comfortably (while being supervised). There's a lot of great colours to pick from too!
Feedback
I really love the loungers! I also have one of the breast feeding pillows and I honestly don't find it super helpful, however I am a second time mom so it's possible first time moms/breast feeders may find it more useful than me! Also bonus, when my baby isn't using the lounger it's my cats favourite spot!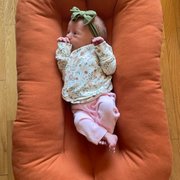 ---
What is Thingtesting?
Thingtesting is an unbiased place to research and review internet-born brands — because honest reviews help us all shop better. Learn more.
---
My son loved his lounger as a newborn, love the cozy snug feel and the soft fabric!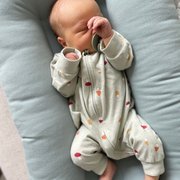 ---