Single & Fat
Single and Fat sells natural olive oil featuring unique packaging.
singleandfat.com
Average rating from 15 users
93%Recommend to a friend
Love this oil and love the way it looks on my counter! I signed up for the subscription to make life easier with reordering
---
Haven't tried, but not a huge fan of the branding (hot, skinny people, and then saying 'fat'). Feels superficial
---
---
I am a connoisseur of Olive Oil. Yes, I know that's a weird thing to say. Just like people love their whiskey, tequila, cannabis - I love my olive oil. I have my bulk olive oil (partanna) that is a great everyday use, i have my high end finishing olive oil (frantoio) that is great to drizzle on top - the list goes on. With the new addition of Single & Fat, everything has changed. Single & Fat has an amazing flavor profile that is perfect for everyday use, finishing, or dressings. I made a pistachio pesto last week and had a number of guests tell me it was the best pesto they've ever had in their life. This is a dish I have made for many years that they have all eaten - the only difference was I used Single & Fat rather than Partanna. I think it's safe to say that Single & Fat is now my go to olive oil for everything. Amazing branding. Amazing flavor profile. Highly recommend.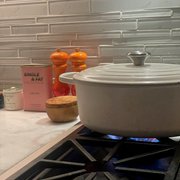 ---
What is Thingtesting?
Thingtesting is an unbiased place to research and review internet-born brands — because honest reviews help us all shop better. Learn more.
---
By far the best olive oil I've used. I've been cooking almost daily for 10+ years and this blew me away. I had a few olive oils around my kitchen and had a friend set up a blind taste test to see how this compared. Keep in mind one of the other oils used in the test was from a small farm in Italy I went to on a recent trip, along with 2 other high end brands from Whole Foods. Single and Fat was by far superior is every way. Taste. Smell. Flavor. Mouth feels. All of it. I will never be able to use another oil. I know, this sounds board line crazy, I'd think that too reading this having not tried it yet. Just do yourself a favor and buy some. Everything I just said will make sense and your kitchen/mouth will thank you.
Feedback
Nothing it's literally perfect. Maybe you don't want to trust a stranger from the internet? Try it. See for yourself. Then realize maybe you should trust more strangers from the internet at least in regards to the quality of a new olive oil.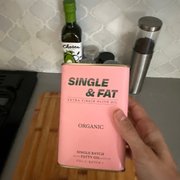 ---
The best olive oil I've ever had. It's clean and light and pairs well with my favorite dishes or even by its lonesome in the AM as a breakfast shot . The ad campaign in itself is a breathe of fresh air. Its bold, in your face colors and graphic elements put the melancholy green tinted glass artisanal brands to shame. Highly recommend.
Feedback
Try it on everything.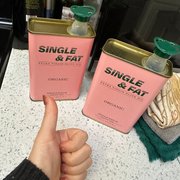 ---
I'm going to be honest. Wasn't an olive oil gal until I tasted Single and Fat. Now I don't cook without it. It's by far the most flavourful evoo I've had without being overpowering. Arugula with some single and fat olive oil is absolute perfection. Obsessed with the branding, incredible customer service and have been living in my single and fat crewneck since it arrived. I can't wait to taste what else you come up with!!
Feedback
The bottle neck dribbles a little, would love a spout top option!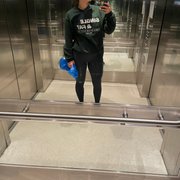 ---
Not gonna lie: I came for the vibe, and I stayed for the taste. Just for kicks I did a blind taste test with a friend (vs. 2 others), and this actually tasted better/richer. I guess I'm an oil guy now?
Feedback
In the future I'd love a squeeze bottle, but also respect that the tin is the vibe.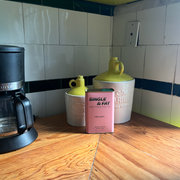 ---
New favourite olive oil! Love having an oil that is so versatile and can use for just about anything!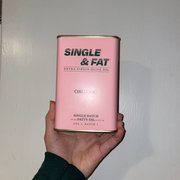 ---
Perfectly packaged. Blindingly tasty! Gorgeous for gifting...what more could you want?!
Feedback
Deliciously delectable and delectably divine...sign me up baby!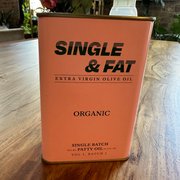 ---
Excellent olive oil that works well in cooking or in finishing, and attractive packaging looks great on the shelf.
Feedback
Nothing negative to say as of yet. Does what high quality olive oil should.
---