Average rating from 2 users
Shaz & Kiks is my favorite haircare brand! The natural ingredients are such high quality, my hair is visibly shinier and softer after using the cleanser and conditioner. The scent is also incredible, very light and not too overwhelming. I always get compliments on how my hair looks after a fresh wash. A little goes a long way, so I easily get 6 months out of one full size jar. So in my opinion, it is definitely worth the price. My natural curls feel so healthy and hold their shape nicely even with just air drying my hair after washing with these products. Will be buying again and highly recommend for all hair types!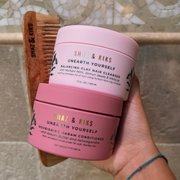 ---
Love the shampoo and the fact that it isn't bulked up with water. It makes my hair feel really clean but not stripped (I have fine, curly hair). The conditioner could be more moisturizing.
Feedback
Pricing. I would buy more if the prices were just a little lower.
---