Average rating from 75 users
87%Recommend to a friend
Sauz Reviews
All

75
Hot Honey Arrabbiata

26
Summer Lemon Marinara

23
I loved my Sauz experience! Unfortunately for them, I'm pretty loyal to a certain brand that's been around and has the best marinara and is less pricey. But what I do appreciate is that Sauz is attempting flavors you are not used to seeing in a jar, which I think is smart and valuable to those who don't staunchly believe it's Rao's or nothing (it's Rao's. I'm loyal to Rao's). That said, I could totally be won over with the right flavor (my family complained the Lemon is too lemon-y and the Hot Arrrabbiata is too hot, but... they told us on the label), and I'm excited to see what's next.
Hot Honey Arrabbiata
Summer Lemon Marinara
---
So delicious. The lemon marinara was my favorite, and the hot honey arrabitafa was very good as well. I love that they are a local LA brand. Will be ordering more!
Hot Honey Arrabbiata
Summer Lemon Marinara
---
---
I haven't tried the lemon yet but we used the hot honey arrabbiata instead of standard marinara on our pizzas and it was delicious. Not too spicy or sweet. Looking forward to using the summer lemon on some pasta! I hope to see these in stores :)
Hot Honey Arrabbiata
Summer Lemon Marinara
---
What is Thingtesting?
Thingtesting is an unbiased place to research and review internet-born brands — because honest reviews help us all shop better. Learn more.
---
I was so excited to try these uniquely flavored 'Sauzs'. 😀 They came quickly and so beautifully packaged. I was really wanting to enjoy these sauces, because I love the flavor combos. However, I find the flavors to be to pronounced. It made it difficult to enjoy. But I must add, that my husband did enjoy both flavors. As a side note, I am not sue I would purchase these sauces again, as I think it is not priced for the masses.
---
The packaging on these were great, both the box and the clean labels. The lemon marinara smells incredible—like I want a candle of that smell to burn in my house. The tomato lemon flavor was not my favorite however—the tomato lemon flavor combo just wasn't for me, even though I love them on my own. I did enjoy the hot honey arrabiatta a lot, it definitely had a good kick (didn't get much honey but did think it tasted great). I'll keep trying other flavors from this brand because I could tell it was high quality and I love that they're branching out from the more classic jarred pasta sauce flavors.
Hot Honey Arrabbiata
Summer Lemon Marinara
---
The hot one is super spicy, but really good!
---
My husband will usually eat anything, but he told me not to repurchase. I wanted to like these so badly, but the flavors just felt off to me. I am not sure why. The honey was a little strong and that threw off the overall taste. The shipping for them was so secure though!
Hot Honey Arrabbiata
Summer Lemon Marinara
---
Enjoyed both flavors! Packaging was fun, as well. I love lemon so no complaints there and also love spice! Will be purchasing in store if I see them in TN.
Hot Honey Arrabbiata
Summer Lemon Marinara
---
I tried both the Hot Honey Arrabbiata and the Sumer Lemon Marinara, and both were amazing! I was personally partial to the Summer Lemon Marinara but both elevated what could have been a very average pasta dinner to something insanely tasty. The price is steep, but the quality of flavor and simple ingredient list will definitely make me repurchase for a treat.
Hot Honey Arrabbiata
Summer Lemon Marinara
---
Best pasta sauce I've EVER had. I used to never buy pasta sauces because they were just so boring and lowkey gave me the ick after a few bites. But Sauz really did it with these ones. The Hot Honey Arrabbiata has the perfect balance of sweetness and spice and the Summer Lemon Marinara has this zesty little kick you didn't know your pasta sauce needed. Come out with more flavors!!
Hot Honey Arrabbiata
Summer Lemon Marinara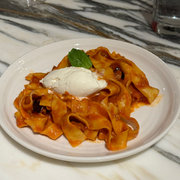 ---