Ruffwear
Ruffwear makes a variety of dog gear and apparel for all activities.
ruffwear.com
Average rating from 6 users
100%Recommend to a friend
When we first got our rescue pup the organization recommended the Webmaster harness as this is the most secure. It has multiple points to adjust to your pup's size and the third strap that goes behind the ribcage is what makes it extra secure, especially for pups that are more anxious and inclined to escape. This feature has definitely saved us a few times in our early days together. It also has a handle at the top for those tougher hikes where your pup might need a bit of assistance getting up somewhere. We now regularly use their Front Range harness and love it equally as much. Both have been worn for woody hikes in mountains and regularly washed, and there has been no fading in the colour or fraying of any of the straps.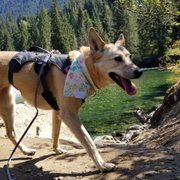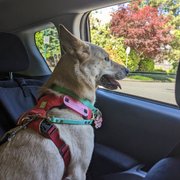 ---
Ruffwear always delivers. Their harnesses and collars are colorful and, most importantly, stand the test of time + ruff play from my dog! I do find that after about a year, the harness gets a little too stinky and starts to get small tears in the fabric, but tbh, my dog is playing hard, and I wouldn't expect anything else. Ruffwear does also replace products that fail, so keep that in mind!
---
---
I've had this leash for 4 years it's the only one my pitbull hasn't broke
---
What is Thingtesting?
Thingtesting is an unbiased place to research and review internet-born brands — because honest reviews help us all shop better. Learn more.
---
My dog wears a ruffwear coat for hiking in cool/windy weather and it has been wonderful for her. Not so heavy that she burns up, but still warm enough to keep her hiking all day.
---
Ruffwear is one of my favourite dog accessory brands. The quality of their products are unmatched. All 3 of my dogs each have a collar, leash and harness for them that have withstood countless adventures and camping trips. I highly recommend for any dog owners who have dogs that love adventuring and need super high-quality gear.
Feedback
My only negative feedback about the products is that the harnesses start to smell after several uses. My dogs often swim in the harnesses and even after being washed, the smell stays. So do keep that in mind if your dog is an avid swimmer. Other than that I think their products are great.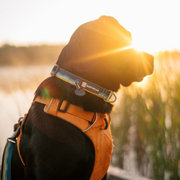 ---
if you have decided on the harness well Ruffwear is the way to go. I was given a hand-me-down upon getting my puppy and since have got a new one that matches his adult size. The quality of the products is amazing. The harness is so easy to put on and adjust. My positive experience makes me gravitate towards their products every time I need something for Sunny or want to gift something to new dog parents in my life.
---