Average rating from 9 users
100%Recommend to a friend
The razor is easy to use thanks to clear written and video instructions. My skin was so smooth after using it! The vertical storage is great for small bathrooms, and the packaging is beautiful too.
---
Me and my partner both use this for different purposes. For her, it's a great way to detail facial hair and get rid of unwanted peach fuzz. For me, it's great for cleaning up my beard and prepping my skin for skin care and makeup. We absolutely love it!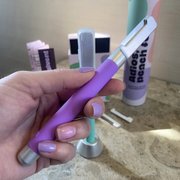 ---
---
At first I was a little skeptical of the whole dermaplaning thing but I fell in love with this brand their mission so decided to trust them and give it a try. I have been shocked at how amazing my skin looks. I have to hold back from doing this every day!
Feedback
At first I thought the product was a little expensive but when I got it I could tell it is really high quality. I noticed they recently reduced the price of their "peach fuzz kit" too so now it seems like a great deal.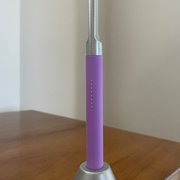 ---
What is Thingtesting?
Thingtesting is an unbiased place to research and review internet-born brands — because honest reviews help us all shop better. Learn more.
---
I loved the packaging, the fact that it is sustainable. It was very easy to use and gentle on my skin. It also has some grip on the handle that helps you with keeping a firm hand
Feedback
The blade was coming off a couple times but they sent me a replacement set
---
Best I've ever used. Super smooth skin and lots of thoughtful touches on the design (the stand is genius). Great customer service & fast shipping!
---
This is a high quality set. It has a slight weight to it and is so soft to make it feel amazing in your hand. The packaging is amazing. It works beautifully in removing my peach fuzz. I love this product!!
Feedback
Absolutely love the products!
---
I'm absolutely obsessed with my ROUT razor! I know dermaplaning may freak some people out, but the razor is so gentle I use the side of it too just in case.
Feedback
There's a visible skin difference. Seriously love this brand and how there embrace all skin types, it's eco-safe too so that's a huge plus.
---