RMS Beauty
RMS Beauty offers natural makeup & skincare made with organic ingredients
www.rmsbeauty.com
Average rating from 5 users
80%Recommend to a friend
RMS Beauty was one of the first clean brands I was introduced to at Sephora & I've loved each product I've tried. Their pigment is really good & strong.
---
I love the Living Luminizer! So simple, effortless, and easy to apply.
---
---
RMS Beauty is such a beautiful brand. I have become a fan of pretty much all of their products. The one product I find myself reaching for a lot is their Eyelights. These are their liquid/cream eyeshadows. What I love about them is that they are so versatile and do not need much work to make them look nice. They moisturize the eyelids and look great for day or night. My go-to shade is Halo, love the wash of color it gives.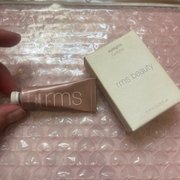 ---
What is Thingtesting?
Thingtesting is an unbiased place to research and review internet-born brands — because honest reviews help us all shop better. Learn more.
---
This was a first brand I was into when I went completely 'clean beauty' many years ago. I am not as hardcore anymore but I still love their pots! Lost Angel cream blush I have bought already twice. Mascara was good, too although I got a bit of panda eye look since my lashes are long and this mascara is quite nourishing so ends kind of rubbed off on my brow bone. Also uncover concealer I used to use a lot, it made me a bit too shiny but it was so easy to use and handy on the go. Not extra keen on the new stuff, their lip lights - I bought a wrong colour but it's also quite sticky and I really don't like the metal tube for lip product. Bought a powder blush which is nice peachy tone but packaging is enormous and the new tube eyeshadow is lovely, feels good and holds well but I don't like any of the offered colours. I bought most natural but it's kind of purplish. Still like the brand though.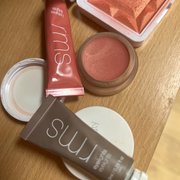 ---
Same old, same old. How many version of highlighters do we need? When this brand launched +10 years ago it was one of the few truly sustainable brands. Unfortunately they put coconut oil everywhere and it breaks me out. Then the living luminiate came out and the offering from this brand became all about highlighters. I have tried recent launches - lip balms and eyeshadows - and did not like them at all. The quality is not there anymore. I did some research and saw that she sold the company. Another case of a brand that is cashing in and is compromising on the quality of its products. The packaging is truly cheap - ugly plastic. Some of the products are refillable but the packaging is really awful and cheap considering the price tag.
---