RING BEAR
4.38 • 8 Reviews
Ring Bear makes personalized, comfort-fit wedding bands for men using recycled metals and carbon-free materials.
ringbear.com
Average rating from 8 users
88%Recommend to a friend
I debated for months on which ring to surprise my husband with. After 9+ years of marriage I thought it would be nice to surprise him with a different ring. I settled on the 14k gold flat matte wedding band from Ring Bear. Well the ring I chose arrived on Monday morning. I surprised him with it on Monday night and then on Tuesday afternoon he pointed out damage to the ring. There's a dent or chip along the edge and a dark scuff that won't come off. I emailed RB that same day with a photo of the damage and their FOUNDER David Schoenfelds response to my email was "We assure you it's 14k gold" Umm I never assumed that it wasn't since that's what I bought. He also said "We can't speak to which activity caused the damage but we would be happy to polish it for you." I didn't even get a "Sorry to hear that happened" Instead I got a "Im surprised to hear that happened." The activities in that 16 hour period were sleeping, sending emails and leisure time. The ring quality is the most delicate I've ever seen despite the brand marketing their rings to "manly men" through images of men wearing their rings while using tools. Information from their own website even suggests that 10k and 14k rings should hold up to regular everyday tasks and that 18k should be removed which is why I chose 14k. I have since had the ring polished at a local jeweler and my husband almost immediately got another scratch on it from simply turning a doorknob..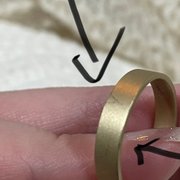 ---
My best friend and I both entrusted in Ring Bear for our husbands wedding bands for our California weddings. Both of our husbands love their rings. Working with Ring Bear, and David Schoenfeld in particular was a wonderful experience. Planning a wedding is a stressful but exciting experience. I found dealing with Ring Bear to be stress- free, and it was just fun and exciting. Wish I could give them 10/5 stars. The packaging it arrives in is also super cute, and it came really quickly after I ordered it. My husbands wedding band looks so chic- we have been out with friends and I've seen him receive many compliments on it before. It is engraved too with our special word. So special. Great experience, I'd recommend ring Bear to anyone (and already have to many of my 2023 bride friends!!)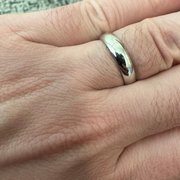 ---
---
My significant other and I had been together for seven years, and finally decided it was time to take the next step together. I proposed on a July morning, right after breakfast and a walk. Now, wedding plans were in full motion, and we shopped around for bands. After hearing about Ring Bear from a friend, we reached out for a preliminary consultation, and were met with nothing but clear communication and a company willing to go the extra mile. We checked out numerous rings until we settled on the right design. They made the entire process super easy, and we're willing to walk us through each step. It felt Much less intimidating than walking into a store sight unseen.
Feedback
They don't offer diamonds or other gemstones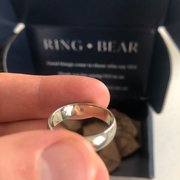 ---
What is Thingtesting?
Thingtesting is an unbiased place to research and review internet-born brands — because honest reviews help us all shop better. Learn more.
---
I used Ring Bear to buy a wedding band and found the entire experience easy and enjoyable. The home try on service makes the entire process convenient. When my ring was delivered and I tried it on, I decided I needed to get a smaller size. All I had to do was print the shipping label, send the ring back, and Ring Bear had a new one at my apartment in three days. I also bought a wedding band for my wife from Ring Bear. She decided she wanted rounded edges rather than flat, and Ring Bear sent over the rounded version in three days. Knowing nothing about ring sizing, I was nervous that they wouldn't be able to make adjustments once they had sent the ring. Not only were they able to make the changes, but they made them quickly and for no extra cost. Plus, I really appreciated the style guidance that they offered along the way.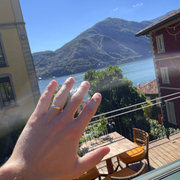 ---
Ring Bear was exceptional to use from start to finish! The home try on was seamless and really helped us figure out what style and size we liked. From there, the ordering process was seamless, delivery timelines quick and accurate, and we LOVE our personalized ring!!!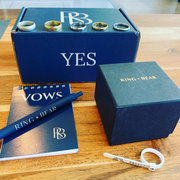 ---
The best customer service and a great gift for any man!
Feedback
No improvement necessary! I was so happy with Ring Bear! 10/10 Recommend.
---
Ring Bear made finding the perfect wedding band so easy! We had looked all over for the right style in our price point and weren't excited by the assortment we were seeing. Ring Bear had everything we were looking for and made it super easy and efficient to try multiple bands. So glad we found them!
---
It is a great product and brand. The sample sizer and sampler product is very well done and overall think the final product was professional delivered and or very high quality.
---