Average rating from 7 users
33%Recommend to a friend
I ordered a pair of the percale sheets for my king sized bed. They shipped quickly. When I received them, I thought they were a little like fabric made of…paper? They were extremely stiff, wrinkled, and NOISY. 😂 I kept an open mind and put them on the bed, since I've had a fair amount of percale sheets and know they can be a little crispy at first. The next morning when I woke up, they had come off ALL FOUR sides of the bed and were balled up underneath me. I don't have a super deep mattress, and that has never happened to me before. Plus, they continued to feel really stiff and just…odd. I returned them and didn't want to gamble on a replacement. I've tried most of the online bedding companies, and their percale is much better. My favorite percale at the moment is from Snowe.
---
I purchased a percale duvet cover and had an okay experience. Their customer service was helpful, checkout was simple, and shipping was fast. The cover felt fine, this was my first percale set so I wasn't sure what to expect, it felt very crisp. The stitching seemed quality and the buttons felt sewn on well. The color was one of their limited editions, which thankfully was of my preference because their normal colors are a bit boring for me. It washed well and I didn't notice any major wrinkles. The corner ties worked well, too. I gave it a try for a bit but I ended up returning it because the full / queen size was too big for my full size comforter. It had a lot of extra fabric which was bothersome. I might have kept it if they actually had a full size option. It was simple to return, which is also a plus.
Feedback
I dislike the limited edition aspect of colors. The full / queen size duvet cover is a terrible fit on a full size comforter. A ton of extra fabric... Would not recommend their full / queen duvet cover if your comforter is full size. Otherwise I'd probably recommend to a friend but I didn't try this long term, so not sure how it holds up over time.
---
---
Riley's percale sheets are the most comfortable sheets I own by far. I also own one of their 4 layer throws which is perfect for california winters. Their cotton coverlet is the perfect transitional layer to use in california winters with an all-season down comforter.
Feedback
My biggest issue with Riley is their sheets wrinkle dramatically on the edges. I wish I could limit the wrinkles out of the dryer. I've had their sheets for several years and they've torn in one location but this may be due to having moved them a couple times.
---
What is Thingtesting?
Thingtesting is an unbiased place to research and review internet-born brands — because honest reviews help us all shop better. Learn more.
---
I have a newly purchased (3 months old) of Riley linen sheets and they are not luxurious compared to the linen sheets I have from Beflax, Brooklinen, and West Elm. They feel like regular sheets that have a linen-ness to them. Like a combination of the two.
Feedback
Better quality linen would help.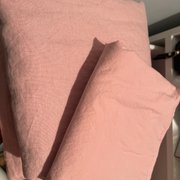 ---
Purchased a full/queen comforter and duvet cover in 2020. The quality, construction , and material have held up nicely after several washes. My only complaint and reason for two stars is that both items are "full/queen" but never - since day one - fit snugly together. Although there are corner ties, the duvet has always seemed oversized and loose. For the high price, I've been using it for two years but am ready for a new cover.
---
I just spent nearly $1000.00 on this supposedly luxury brand. I purchased sateen pillow cases, two sets of sheets..one king and one queen and down comforter. (king). I also purchased a double weave robe and a spare flat sheet.
Feedback
The items were no better than something I could buy at a local retailer for a fraction of the price. The sheets are NOT soft and they have not improved after several washings. When I opened the box with the comforter in it, I was struck by the worst odor imaginable. It smelled like bad mayonnaise! I now have to return some items and lucky me, I get to pay to return poor quality, over priced items. All I can say is...never again. Keep your ads and your b.s. on how great the product is. It's not. The sheets are stiff and have not gotten softer after many washings. The robe is okay, but not worth the $125 I laid out for it. overall, I would stick to shopping in a store where you can actually feel the products (and smell them).
---
Similar to parachute it's a startup with zero experience in luxury bedding. But A+ on marketing given I saw an article by New York Times rating them so I purchased which is arguable the most uncomfortable duvet cover for $200. Shame on me for not doing proper diligence.
Feedback
A better product. Wouldn't pay more than $30 for the terrible $200 duvet I purchased.
---